High expectations for
BHS

cross country teams … again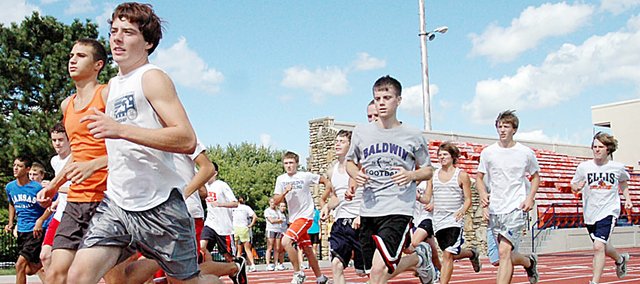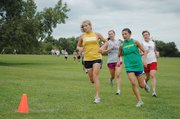 Mike Spielman's teams are used to high preseason expectations and they usually don't disappoint when they bring home state championships and medals.
This year is no exception. The Baldwin High School girls' cross country team was voted first in the Class 4A preseason coaches' poll. The defending two-time state champions received 99 votes, while Frontier League rival, De Soto, got 93 votes.
"We just saw the rankings today and we're pretty excited," senior Connor Twombly said. "You can't bank on those rankings, because you still have to go run. We're expecting to be near the top, so now we just have to go make it happen."
The BHS boys placed third as a team last fall, but enter the 2009 season second in the 4A poll. Mulvane, which medaled six in the top 20 at state en route to its second straight title, was voted No. 1 with 101 votes. Baldwin (88) was just above Wamego (80), which finished second at state last fall.
"I'm pretty excited about the season," junior Tony Weiss said. "I think we have a pretty good shot to do well as a team. We definitely always want to shoot for top three at state, preferably top two."
The BHS girls' team lost two of its top three runners from last year to graduation. However, like most Spielman teams, the Bulldogs don't rebuild, they reload this season.
Freshmen Sienna Durr and Katelyn Barnes look to make an immediate impact on the team. The freshmen duo is running with the top girls at practice, so expectations are high for the young Bulldogs.
"They are really good," Twombly said. "They are really strong runners and we knew that they would be from their eighth-grade track season. Having them out here with us makes us that much better."
Add the highly-touted freshmen with Twombly, senior Julie Hill, junior Heather Karlin and sophomores Elizabeth Sigvaldson and Abi Hartzell, the Bulldogs are ready for a successful season.
"We have a lot of people fighting for spots on varsity and that's really good," Spielman said. "Our JV team is going to be really strong because we have several girls that would make varsity on other teams."
On the boys' side, the Bulldogs return five runners from the 2008 state team that placed third. Leading the way is Weiss, who finished runner-up at state. Spielman's been impressed with Weiss' early season running.
"He's been having really good practices and he had a really good summer," Spielman said. "He's looking really, really strong right now. He'll be a tough one for anybody to beat."
Weiss himself has high goals for his junior campaign.
"I'm going to try and win this year," he said. "I definitely have a shot, I think. Me and a couple other guys should be up there, if I can stay healthy."
Other BHS boys returning to the varsity squad are junior Carson Barnes, junior Joey LaBuda, sophomore Brian Wright and sophomore Tosh Mihesuah. Spielman will just be looking for two more Bulldogs to round out the varsity roster.
"We're going to be in the hunt again," Spielman said. "Mulvane and Wamego are going to be tough again. We don't know for sure what those teams are going to be like. We are going to get better as the season goes along. We have some younger, inexperienced guys that will make the back end of our varsity."
The Bulldogs will begin their season at 4 p.m. today at the Anderson County Invitational in Garnett. Although it's the season opener, BHS could be challenged by several teams.
"The first meet is going to be a good test for us," Spielman said. "De Soto has good boys' and girls' teams. Santa Fe Trail is going to have a good boys' team. Chanute is going to be there and they have a good team. It's a great chance to see a lot of teams and see where we are at."
Twombly, who said she is nervous for the meet, will be hoping to live up to those preseason rankings at the end of October.
"I didn't do cross country as a freshman, so to win it all three years would be amazing," she said.