Flory has flair for showing at fair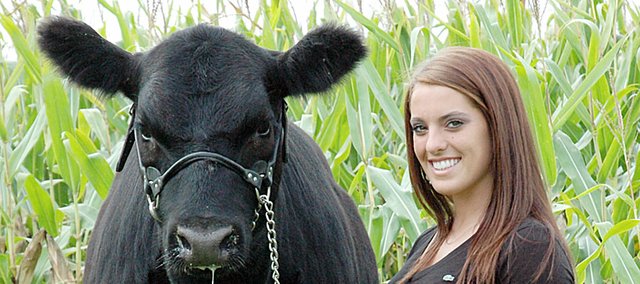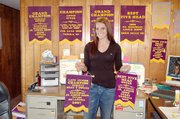 When the Kansas State Fair begins next weekend, MacKenzie Flory will be hoping to continue her summer success.
Flory, a Baldwin High School senior, practically swept the livestock judging at the Douglas County Fair in early August. The 17-year-old, who lives between Baldwin City and Lawrence, was even shocked at her success.
"This was definitely my best year at the county fair," Flory said. "This year was very rewarding, because I worked all summer for it. I felt like all of my work really paid off at the fair."
Flory became the first-ever 4-H'er to win Grand Champion Level 4 Showmanship for the beef, sheep and swine shows. She also won Champion Level 4 Round-Robin Showmanship at the county fair in Lawrence.
"I don't think that we have had someone win all three showmanship divisions in the past," said Margaret Kalb, executive secretary of the Douglas County Fair Board. "We did have one 4-H member who had the champion hog, sheep and steer all in one year, but that was back in the early '90s. It is hard to do, because not that many 4-H members exhibit in all three species."
She didn't just stop at the showmanship titles. Flory also took home the Grand Champion Market Lamb, Grand Champion Market Hog, Reserve Grand Champion Market Hog and Champion Level 4 Live Stock Judger awards.
"All of them are really important to me," Flory said. "It's a privilege, because some kids don't even win one of those the entire time they show animals. For me to win as much as I did, I felt very honored."
Of course, she also had success at her favorite livestock show — beef cattle. Flory's final major award at the county fair was the Supreme Grand Champion Breeding Heifer.
While most 4-H'ers spend time with friends at the fair, Flory didn't have time. Her schedule didn't allow her free time until it was over, but she doesn't regret any of it.
"It was really hard," she said. "I felt like I was always trying to be in three places at once. I had a lot of people that helped me out this year. Some of the 4-H families helped me with my animals. Someone was always there to help me, because they knew I was going to be busy."
Despite her success at the 2009 Douglas County Fair, Flory isn't sure she will be returning to compete in 2010. She is considering ending her county fair career on a high note or possibly traveling to a convention to help her with her national shows.
"I'm still eligible for two more years," Flory said. "However, this would be a pretty good year to end on. I guess we'll just see how things go this year. There is a national cattle showing leadership conference every year and it's at the same time as the county fair. I always have to choose one or the other, so next year I might go to the conference. I'm just not sure yet."
While the choice ultimately lies with Flory, Kalb said she hopes Flory comes back next summer.
"If I were her, I would come back," Kalb said. "There is always more that she can do, and there are other projects that she can exhibit in. She sets a good example for the younger 4-H members and I hope that she does come back for her final year."
Before it comes time to make that decision, Flory will be taking her animals and success to the Kansas State Fair. It runs Sept. 11-20 in Hutchinson. She will be competing in the livestock judging events Sept. 17.
Success at the county fair hasn't gone to her head. She knows the state fair will be much tougher than the local event.
"I'm looking forward to it a lot," Flory said. "Obviously, it's a lot harder than the county fair. I'm hoping for the best, so we'll see how that goes. It's fun and you get to see a lot of people that you don't normally see from across the state."