BHS

soccer falls to Hayden in home opener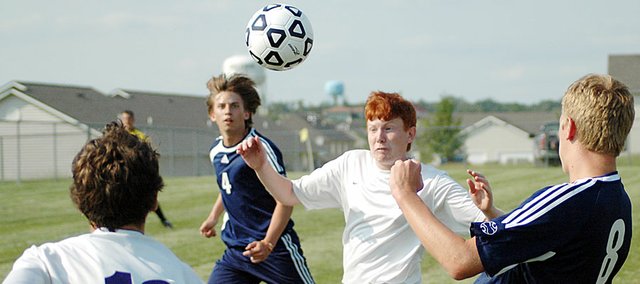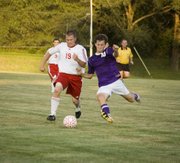 After two games, the Baldwin High School soccer team is winless, but it only has one loss on its record.
The Bulldogs opened the season with a tie at Tonganoxie Friday, before losing their first contest of the season to a perennially talented team, Topeka-Hayden, on Tuesday afternoon. Coach Matt McCune was pleased to see improvement in the second game, despite the loss.
"Absolutely. That's what we talked about after the game in our huddle," McCune said. "There was no doubt in anyone's mind that we played better than we did Friday. We played a lot smarter."
One positive aspect of both games was the Bulldogs weren't shut out in either contest. Both goals were scored during the final minutes of the game, but avoiding a shut out is always important to the coach.
"It was nice to score a goal tonight," McCune said. "In soccer, if you shoot on goal, anything can happen. We wanted to get at least one quality kick on goal and we took advantage of the corner kick."
On Tuesday, the Bulldogs scored with 3:21 remaining in the contest to avoid the shut out. Senior Levi Moore tapped in a ball after a Bulldogs' corner kick.
"The keeper caught my kick, but was falling into the goal, so he dropped it," Moore said. "Will Nitcher kicked it, but it was deflected. Then I just put it away."
The Bulldogs lost 4-1 in their home opener. However, McCune and Moore both believe the game was closer than the score represented.
"It was definitely closer than 4-1," McCune said. "We have three new guys playing in the back and they're still figuring out things. They played really well in the first half. Overall, I'm pleased with how they handled it."
The two teams played scoreless for most of the first half. Hayden scored the first goal of the game with 6:10 remaining in the half. Senior Aaron Rowe put the Wildcats on top 1-0.
Hayden added its second goal after seven minutes of play in the second half. Junior Kyle Beck scored the first of his two goals to give his team a 2-0 lead. During the middle of the half, the Wildcats scored a pair of quick goals, which put the contest out of reach at 4-0. Beck and Rowe each scored two goals.
"We had a couple of lapses on defense," Moore said. "It should have been a closer game. It was misleading. We played all right, though. We just need to protect the ball better and play a little smarter."
On Friday, Tonganoxie led the Bulldogs for 68 minutes at Chieftain Park. But a Bulldogs' goal with 60 seconds remaining changed that and the two squads settled for a 1-1 tie in their season openers.
"They were bigger, faster and stronger than us," McCune said of the Chieftians. "They were beating us to the ball. Once we got the ball, we handled it pretty well. They (Chieftains) would just kick the ball once they saw it, so it was hard to get into a rhythm. They just played kickball. We were in better shape than they were."
BHS junior defender Chris Schrapel scored the tying goal from the left side, roughly 20 yards out, to beat THS goalkeeper Mitch DeHoff by mere inches.
Neither team was able to score in the final minute of regulation or the following pair of 10-minute overtime periods.
"We had several chances to score in overtime, but just couldn't put one away," McCune said.
Baldwin will play host to Gardner at 4 p.m. today.