BHS

football ready for opener against Paola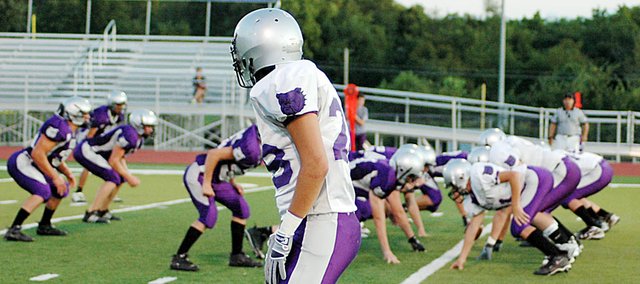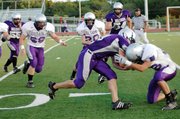 When the Baldwin High School football team takes to the field Friday night to begin the season, it's going to look much different than a year ago.
The 2009 Bulldogs lost 16 seniors from the 2008 squad. They do return five varsity players on offense and four starters on defense, all of whom are ready to start Friday.
"I am more than ready to play Friday," junior Josh Hoffman said. "I have been thinking about this game all summer and can't wait until that first whistle sounds."
Baldwin will begin with the Paola Panthers at 7 p.m. Friday at Liston Stadium. For the 10th straight year, the home opener will be preceded by the Bulldog Bash. BHS coach Mike Berg hopes the community tailgate party will inspire his team.
"The excitement of the Bash will help us," Berg said. "I think the guys will play with a lot of enthusiasm Friday. That's what we need."
The Bulldogs will have almost three weeks of practice under their belts when they begin their season. Berg said the team is working hard and trying to improve every day.
They put that practice to the test last Friday at their annual scrimmage. The Bulldogs played on the Liston Field for the first time. As with any preseason practice, their coach saw some positive and negative things at the scrimmage. "I saw a lot of good things on film, but I also saw a lot of mistakes," Berg said. "That's why we scrimmage, because we want our guys to understand what we want. Now, we have to go back and correct things we're not doing well."
On the offensive side of the ball, the Bulldogs return Hoffman, fellow junior Landon Ausherman and senior Sam Foye in the backfield. Senior Camdon Schwartz is back at tight end for Baldwin, while junior Jesse McDaniels brings experience on the line.
"We like our skill guys and our linemen," Berg said. "We have a couple guys around 270 pounds. We also have some guys with some speed."
Helping with the offense this fall is assistant coach Brad Scott, former De Soto head coach. Scott played with Berg at Baker University in the late '80s. The two are working together to improve the Bulldogs' offense, which has primarily been the old-fashioned single wing during the past two years.
"When something comes out of his mouth, it's coming out of mine at the same time," Berg said. "We think a lot alike. We coached together at Baker and we have some of the same philosophies. It's been working great and it's taken a load off of me this season."
Hoffman has enjoyed Scott's coaching during the early season.
"I think coach Scott is a big help this year," Hoffman said "He really brings a whole new perspective to our team. I think all the players really like him."
The Bulldogs' defense is also led by Hoffman, Ausherman and Foye for its returners. Senior Cole Ingram is back to help the defensive line. Baldwin will have new defensive backs this fall, but Berg is excited about his defense.
"We return two of our linebackers and two guys on the defensive line," Berg said. "We're building guys around them. I like our defense because we're fast."
Baldwin will once again begin its season with two of the top Frontier League teams. After Paola, BHS will host reigning league champ Gardner-Edgerton.
"Gardner has been really good the last couple of years and Paola has great tradition going way back," Berg said. "Both programs are really successful and we'll find out how good we are pretty quickly."
The Bulldogs will play Perry-Lecompton, Santa Fe Trail and Eudora for its Class 4A districts this fall. Hoffman said the team wants to play in the state finals, but he also wants to beat the Bulldogs' rival.
"I would have to say that the team goals this year are to play for a state championship," he said. "I would really like to beat Eudora and pay them back for last year."