BEF

awards Innovative Project Grants again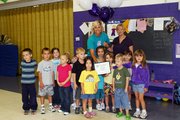 Teachers and students all around the Baldwin School District were pleasantly surprised by a group of visitors Friday morning.
For the fourth consecutive year, the Baldwin Education Foundation "prize patrol" toured the district. The group of BEF board members stopped teachers in their classrooms, hallways and even on the playground.
"It was great fun," said Kathy Gerstner, BEF executive director. "We hit all of the schools and everyone was excited to see us. It's always fun to give money away."
The education foundation awarded 16 Innovative Project Grants Friday. The 16 grants totaled $8,578 and were presented to 27 teachers at all six schools.
In the four years the grants have been given out, the education foundation has awarded more than $27,000 to Baldwin School District teachers. There were around 30 grant applications this year.
"We continued to be pleased about the quality of the projects we're funding," Gerstner said. "Obviously, none of this would be possible without the wonderful community support we receive.
"Even with these economic times, we were able to fund at the level we did last year," she said. "It's even more appreciated by the faculty, because it's such a lean year in the school district."
One of the recipients was Holly Gaylord, Baldwin Elementary School Primary Center physical education teacher. A year ago, Gaylord received the grant money to purchase pedometers for her second graders. This year, she got the $80 grant she applied for to buy batteries for the pedometers.
"It's pretty cool that we have the Baldwin Education Foundation," Gaylord said. "Without it, we wouldn't have some of the neat stuff we have.
"It was exciting," she said. "I asked for $80 and I didn't think I would get it, because I got a great big amount last year. I was pretty amazed that I got it again. Kathy Gerstner told us 'if you don't apply, you won't get it.' So I think I'll try every year."
Gaylord said her students have enjoyed the pedometers so far and they will even work harder to increase the number on their pedometer.
"The kids can use them to count steps, distance or calories," she said. "They really like them. It took us a while for them to learn how to put them on. I use them with the second grade and they think they're pretty cool. They will actually do more to get the number to go up."
The money for the Innovative Project Grants comes from several sources throughout the past year. The largest fundraiser is the State of the District Breakfast in March. However, the foundation also raises money from alumni donations, Bulldog cards at Baldwin State Bank, Bunko night and the Touchdown for Education program.
The 2009 grant winners were:
Chris Bulgren, Marion Springs Elementary School/Vinland Elementary School music, "Guitars," $750
Nikki Burnett, Baldwin High School chemistry, "Chemistry Modeling," $750
Kim Callahan, Baldwin Junior High School math, "Digital Nation," $750
Scott Crenshaw, BJHS Science, "BJHS Animal Program," $750
Betsy Daniel, Barb Schwering, Ashley Strand and Doug Woolery, MSES, "6 Trait Writer's Workshop," $350
Kathleen Dorsey, Baldwin Elementary School Intermediate Center fifth grade, "Designing and Creating a Product," $550
Patty Flory-Evans, BJHS language arts, "You are a Published Author," $124
Holly Gaylord, BESPC P.E., "Pedometers," $80
Sarah Harris, BESPC first grade, "Learning through Music," $490
Brooks Heath, BHS science, "Comparative Vertebrate Anatomy Study," $615
BJHS Web Team, BJHS, "WEB - Where Everyone Belongs," $795
Natalie Schmidt-Konkel, BHS counselor, "SOAR Study Skills," $624
Chad Scoby, BJHS math, "Integrating Technology," $400
Alicia Thomas, Leslie Jackman, Loretta Verhaeghe, Susan Case, Jessica Lancaster and Rita Tutschulte, VES, "Book of the Month Club," $500
Marilee Valentine, BJHS social studies, "Flipping over History," $300
Doug Woolery, MSES fifth grade, "Bird Habitat and Land Navigation/Orienteering," $750