BHS

volleyball squad beats Eudora to start season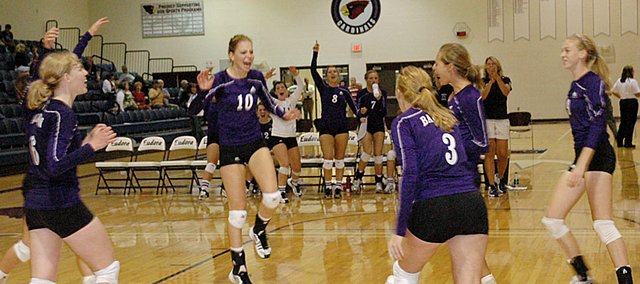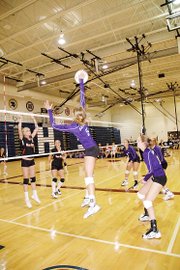 EUDORA — If the first match of the season was going to set the tone for the Baldwin High School volleyball team, then another losing record was in the works.
However, those negative thoughts were erased during the next two hours here Tuesday night.
The Bulldogs lost their first match of the season to Basehor Linwood, 25-21 and 25-20. It wasn't the results the Bulldogs hoped for to open the 2009 season.
"We weren't awake the first match," coach Kelly Brown said. "It's almost like we were in the last three years game mode. Our offense wasn't running and we weren't passing the ball well. Everybody was struggling. We were doing a lot of silly things that we did in the past."
Brown was more concerned how her team would react to the disappointing start.
"They could have gone two directions tonight," she said. "They could have stayed in the mode they used to be in, but they fought through it and came back to get a win."
Baldwin went on to win its next two matches of the night to begin the season 2-1. Emotions and excitement ran high after the final game was over Tuesday.
"We feel like a brand-new team," senior Mallory Sansom said. "I know we are going to do a lot better this season. I'm so excited."
The Bulldogs took care of business against Bonner Springs. They won 25-20 and 25-20 to claim their first win of the season. The next match was a highly anticipated one for the BHS players.
Baldwin squared off with host Eudora for the final match of the night. BHS hadn't beat the Cardinals in several years, but the Bulldogs hoped to end that streak Tuesday.
"We're big rivals, so we were pumped for the game," junior Ramie Burkhart said. "We were up before the match even began. We wanted to beat them so bad."
The Bulldogs pulled away midway through the first game. They maintained that lead and won 25-20 to take game one from Eudora. With excitement levels at an all-time high, the Bulldogs were ready to end the match in game two.
However, Eudora had different plans. EHS started the second game with a 6-2 lead. The Bulldogs slowly crept back into the match and tied it at 16-16. Burkhart soon took over as server and led the Bulldogs to the victory.
Baldwin outscored Eudora 9-3 during the final minutes as BHS won 25-19. It marked the first time any of the current players have beaten Eudora on the varsity level and it showed after the match.
"I'm very excited and happy to win tonight," Sansom said. "It feels so great to beat Eudora. We've wanted to beat them all of these years and now we finally have."
Burkhart, usually a quiet player, even showed excitement.
"It feels great to beat Eudora," she said. "We've lost to them many times and now it's our turn to win some."
Like the Bulldogs in past years, Eudora is a young squad. The Cardinals only have three seniors and three juniors on their roster. Despite their youth, Brown knows they are still a solid team. She also hopes her team learns how to get excited for every match this fall.
"It's a huge rival," Brown said. "They've been talking about Eudora since last year. They've always come out strong and they are a good team. They've got a good coach. If we can beat a team like Eudora that's given us trouble all of these years, I think we've got more good things to come."
"It looked like they won the World Series when they beat Eudora," she said. "They haven't felt that way about volleyball. They have to learn how to feel that way every game. They physically have the ability to win games like that. They have all of the key players and the leaders. Now, they just have to mentally feel it."
Baldwin will have a week to rest and prepare for its next match. BHS will play at 5 p.m. Wednesday at Tonganoxie. Then the Bulldogs will host the Baldwin Invitational Sept. 12.
"I'm so excited right now," Burkhart said. "It feels like a whole new team and this is a great start."