BHS

girls win third straight state title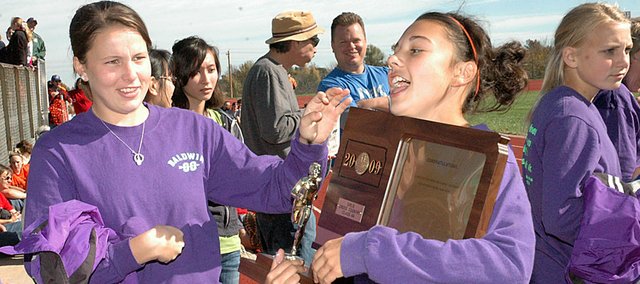 WAMEGO — For the third straight year, the Baldwin High School girls' cross country team has left here with a Class 4A state championship.
The Bulldogs' victory on Saturday was their sixth in the last eight years. They scored 40 points as six of their seven runners finished in the top 20 to earn a state medal.
"They've done a great job all year," Baldwin coach Mike Spielman said of his girls' team. "It was pretty dominating today to get six in the top 18. They ran really well and have won three in a row now."
Baldwin's state medalists were Sienna Durr (4), Elizabeth Sigvaldson (7), Kaitlyn Barnes (11), Heather Karlin (16), Carol Whaley (17) and Julie Hill (18). Connor Twombly (29) was the other BHS runner.
Baldwin's boys placed fourth as a team. Tony Weiss finished third for the Bulldogs.
The last time Baldwin's boys didn't win a state trophy was 1995. Since then, the Bulldogs won eight titles, finished second twice and third three times.
There will be full stories with photos in Thursday's edition of the Signal.