Voters to decide on sales tax Tuesday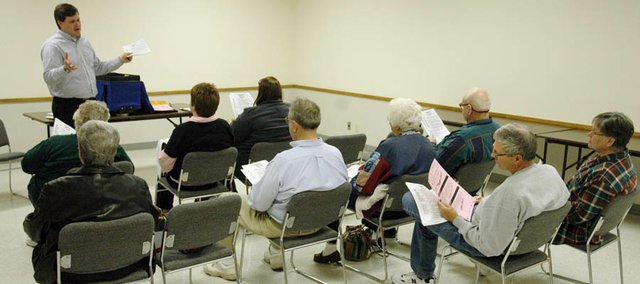 Douglas County Clerk Jamie Shew is expecting about 500 Baldwin City voters to decide the outcome of Tuesday's special election regarding two sales tax questions on the ballot.
"The 2005 special election had a 15 percent turnout with 381 voters participating. That election was Dec. 22, so that may have impacted turnout," said Shew, regarding the election for Sunday sales of liquor, which voters passed. "We had roughly 700 people vote in the April election. My guess would be somewhere between 400 to 500 people, although advance voting is fairly slow right now.
"We have had three in-person advance eight mail advance returned," he said. "In the 2005 election, there were 32 advance votes. The interest in this election appears about equal to the 2005 special election regarding Sunday sales, so I am hopeful for 15 to 20 percent turnout."
Voters within the city limits will go to the three polling places to determine the outcome. One question is whether to renew the current half-cent sales tax, which has been in place since 1991, and most recently paid off the swimming pool. If it passes, the approximate $180,000 it raises annually would go to infrastructure improvements, most notably the north Sixth Street project, of which the county and city will share the $3.5 million cost.
The second question asks if a new .25 percent sales tax should be instituted to pay for "quality of life issues." Those have been designated as building new hiking and biking trails and improvements to current city parks, such as adding restrooms and water fountains.
The Baldwin City sales tax vote is the only election in Douglas County this fall. Shew said that's become a trend.
"Lately it has been happening more regularly that a governing body is calling a special election that does not coincide with the regularly scheduled elections," said Shew. "Eudora held a special election in November 2007, the Lawrence school district called a special election in April 2008 and Baldwin City held a special election in 2005."
Advance voting is available at the county courthouse through Friday from 8 a.m. to noon and Monday from 8 a.m. to noon. It will also be available at the Baldwin City Public Library from 9 a.m. to noon Saturday.
"I am really excited to offer this opportunity to the citizens to vote on Saturday," he said. "Hopefully, this will help ease any barriers in participation that may be presented with voting on Tuesday."
For more information or to view the ballot, go to the Web site at www.douglascountyelections.com.
"As always, voters can go to our Web site to check their polling places and voting information," said Shew. There are no voting place changes for this election. We have been getting a number of questions asking who gets to participate in this election. This is a city-only election and therefore only registered voters residing within the city boundaries are eligible to participate in this election."
He estimated the cost for the election to be between $5,000 and $7,000. He also said votes will be counted in Baldwin City, just as was done in 2005.
"We are once again counting the votes down at the American Legion Hall, just like we did in 2005, although technology has changed and we do not need to bring down the really big central count machine," said Shew. "It will be open to the public just like the courthouse usually is on election night. It will probably not take long for results. I would guess 8 p.m. at the latest."
Polls at the American Legion Hall, Fire Station and Baldwin Elementary School Primary Center will be open from 7 a.m. to 7 p.m. Tuesday.
The Signal will have those results available online at baldwincity.com as soon as possible. Additional information on the sales-tax questions can also be found here.