'

Karaoke Joe' rocks the tunes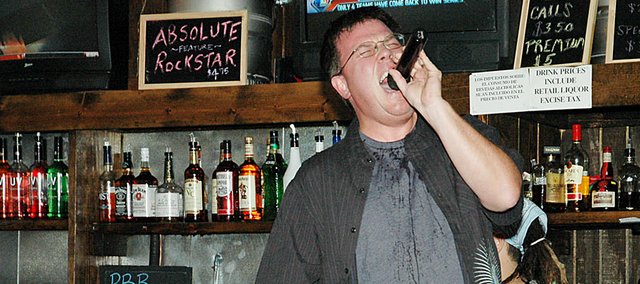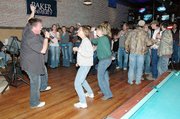 "Joe! Joe! Joe!" The crowd goes wild and yells his name in rhythmic chants.
He strolls up to the front of the bar and grabs the microphone. The music starts and he walks into the crowd. Seconds later, he is belting out a rock song while dancing around or on the bar.
"It's fun. It's my name," Joe Bathke said. "I don't mind being called 'Karaoke Joe.' It's fun. I like when they chant my name before I sing. I like hearing 'joe, joe, joe.' It's the first time I've had a nickname."
As the song finishes up, Bathke receives thunderous applause from everyone at Hickory Creek Barbecue. An hour later, Bathke is once again front and center for the local crowd.
It's become his Friday night entertainment every other week.
"I guess you could say it's a hobby," said Bathke, a 41-year-old Baldwin City resident. "Some people like to collect stamps, other people like to race cars and I like to sing karaoke. It's something I do in my spare time. It's a hobby I enjoy very much."
Since Hickory Creek began hosting karaoke last spring, Bathke has become a fan favorite. On Facebook, the events advertise "Karaoke Joe" and whether or not he will attend.
Many local residents have enjoyed his presence at the bar.
"He really brings the electricity and fun atmosphere to downtown Baldwin City on Friday nights," Coy Weege said. "His taste of music is entertaining for all ages. He's fun to listen to and watch."
Bathke's wife, Leigh Anne, has several friends who also come out every other week to see him sing.
"I think it's hilarious," Leigh Anne Bathke said. "It's funny when people see him and they yell 'Karaoke Joe' at him. People on our cruise ship recognized him after he sang karaoke on the cruise. It's just funny to me."
Leigh Anne and her friends even talked him into entering a karaoke contest for the Oprah Winfrey show. On Oct. 9, she recorded a video of him singing Guns n' Roses' "Welcome to the Jungle." They sent the video in and hope to hear back later this week or next on whether or not he is a semifinalist.
"There are lots of people that signed up and probably a lot better singers out there than I am," Bathke said. "So I think the odds are fairly remote, but the odds are zero if you don't try. Leigh Anne did say some people put their stuff on YouTube and there were some really good singers. She did say there was no one who does what I do, which is act silly and crazy."
Hey Joe – try this
Around three years ago, the Bathkes attended a birthday party in Kansas City, Mo. It was held at a bar, where karaoke was center stage that night. He decided to sing two songs and give karaoke a try for the first time.
His first-ever karaoke songs were "Hard to Handle" by the Black Crowes and "Dirty White Boy" by Foreigner.
"I did a couple songs that night and it was fun," Bathke said. "I sort of stepped it up from there and started doing it at more places. There was nobody there that I knew, except the people from the party, but I got a couple of high fives and 'dude, you rock' comments."
Not only did he impress himself, but Bathke also surprised his wife. She was shocked at his talent.
"I had no idea that he had that in him," she said. "It was amazing. I knew he had been in a band in high school and I had recordings of his band. I knew he could sing, but I had no idea he could perform like he does."
Juke Box Hero
During the past six months, Bathke typically sings three songs, most of which are classic rock hits. Some of his favorites include ACDC's "Highway to Hell" and Jet's "Are you gonna be my girl." Although if he had it his way, he'd enjoy rocking out some Led Zeppelin tunes.
The one song he might be best known for began on a cruise ship. He chose it because nothing else caught his interest.
"I guess 'Welcome to the Jungle' is one of my favorites to sing and it happened by accident," Bathke said. "We were on a cruise ship and the karaoke selection was crummy. We spent several minutes deciding what to sing and finally I said there was nothing else better to sing, so by default I'll sing that one."
Not all of his songs are classic rock hits. Occasionally he will have fun with The Sweet's "Ballroom Blitz" or Katy Perry's "I kissed a girl."
Not all of his songs are classic rock hits. Occasionally he will have fun with The Sweet's "Ballroom Blitz" or Katy Perry's "I kissed a girl."
"I love it when he does 'Ballroom Blitz,'" Leigh Anne Bathke said. "I don't know why, but I love it when he sings that song. I would like him to sing some slow, romantic ballad to his wife, but I know that won't happen. I also like it when he sings 'I kissed a girl,' because I think that's hilarious."
Bathke has a plethora of songs he is comfortable with singing in front of a crowd. However, it's not just his singing that entertains the crowd.
"Now he just tries to shock me, but I am unshockable," Leigh Anne Bathke said. "Each time he does it, he thinks of new ways to shock his wife. Every time he steps up there, nobody has any idea what exactly he will do, including himself."
Most karaoke singers use the screen to read the lyrics of their song — not Bathke. In fact, he never uses the screen. During his dancing and antics, he sings the correct words on key and on time.
"The first time I did use the screen," Bathke said. "I knew the words, but it was the first time I ever tried it, so I did get away from the screen, but not as much as I would have liked. I enjoy songs that are up-tempo and aggressive. I like something with a good guitar solo that isn't too long."
Born to be Wild
Bathke's karaoke performances aren't just popular because of his singing. He dances around the building, even on the bar top itself. His hijinks and singing make him a popular act. However, if you ask him or his wife, he doesn't seem like the typical karaoke rocker, especially since he works as the marketing communications manager at Burns and McDonnell.
"He is a low-key, mellow guy," Leigh Anne Bathke said. "He is the last person you expect to get up and perform. When you meet Joe, he's an editor, so he's low-key and very mellow. It all changes when you put him behind the microphone."
He even pokes fun at himself and his antics during karaoke.
"Once I do a song a few times, I figure out that certain things would be fun to do around the bar," Bathke said. "As you can tell, I'm not much of a natural dancer. I don't have the physique of a dancer either. I have to make up for it with silly things here or there."
His demeanor and antics with the microphone stem from his younger days in a Southern California rock band. Bathke was the singer and occasional bass player for "White Lie" for four years during his late teens.
Although he had plenty of fun as the singer, Bathke said his craziness at karaoke might top that of his rock band days.
"I actually am a little crazier now than I was back then, because when you're 20 years old, you have your youth going for you," Bathke said. "You're always trying to avoid not looking cool. Now I'm overweight, married and a father of two kids. There's no possible way I can look cool.
"I'm certainly not going to dazzle people with my voice," he said. "I can at least be entertaining for the crowd."