BHS

cross country teams qualify for state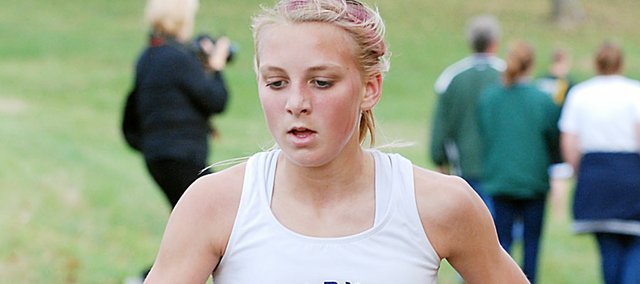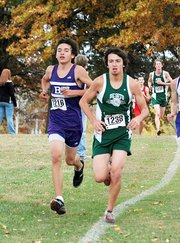 Mike Spielman's teams had their final tune-up before the big finale and results were about as expected.
First, both Baldwin High School cross country teams qualified for the Class 4A state meet in Wamego. That wasn't unexpected, but it was the most important goal for the Bulldogs at the 4A regional at Wyandotte Country Park.
"That is the good thing about regionals," coach Spielman said. "We got everyone qualified. We'll take another week and see what our goals are and what we need to do at the state meet."
Secondly, the BHS girls continued their winning ways. They have now won seven of their eight meets this fall, with the prestigious Rim Rock Classic being the only non-win.
The Bulldogs scored 35 points to earn the team victory and regional championship trophy. De Soto placed second with 55 and Saint James Academy was the other team qualifier with 93 points.
"I was so happy to win as a team," senior Connor Twombly said. "I think it means more to me this year, being a senior."
Last, but not least, the BHS boys' team finished runner-up to De Soto, as it had all season. The Wildcats scored 25 points to win the meet. Baldwin had 42 to place second and qualify for state.
"I was happy with how everyone ran," Spielman said. "We have some that had great races and others that had average races. That's the way it always works."
Saturday marked the first time everyone on Baldwin's boys' team finished the race since their first home meet on Sept. 19. Sophomore Brian Wright was back running as he returned from an injury.
The one constant for the Bulldogs was junior Tony Weiss. He once again won the meet going away. Weiss finished the 5-kilometer course in 16:23.38, as he won by 30 seconds.
"He has put himself in a chance to win it," Spielman said of Weiss' upcoming state meet. "It will probably be him, the Mulvane kid and the Wamego kid. They will be battling it out."
Baldwin's second runner was sophomore Tosh Mihesuah. He placed fourth, behind a pair of De Soto runners and Weiss. Mihesuah ran 17:19.71, which was two seconds ahead of Wright, who placed sixth.
"He did that and that helped our team score by having him in there," Spielman said of Wright. "We had other guys that stepped up. Tosh had a big race and he really dropped his time. Tony kept running well, as he always does. We're just going to keep getting better and healthier."
Baldwin's next finisher was junior Joey LaBuda, who was 15th. The other three runners were juniors Kyle Garcia (24), Ethan Horne (25) and Carson Barnes (33).
"They started moving up a little bit more this week," Spielman said. "Now we just need them to move up a bit more and we'll be good."
On the girls' side, Baldwin once again packed it up as a team. The Bulldogs' usual top runner, freshman Sienna Durr, battled a side ache for most of the race. However, the rest of the team ran their usual race.
Baldwin's pack placed fifth through ninth and their split was 23 seconds. Leading the Bulldogs was sophomore Elizabeth Sigvaldson. She finished the 4-kilometer course in a time of 15:54.51. Following her was freshman Kaitlyn Barnes, junior Heather Karlin, senior Julie Hill and sophomore Carol Whaley.
"She got a side ache and that kind of held her back a little bit," Spielman said of Durr. "All of the other girls stepped up and Elizabeth had a great race. Everybody else did, too. Anytime you can pack them in as tight as we did, it's going to help a lot. It's nice to have seven good runners, because it doesn't matter who is first or seventh."
Twombly was Baldwin's sixth runner. She finished 13th, as Durr was the final runner in 21st place.
"One of our goals for every race is to pack up and get our split time as low as possible," Twombly said. "I think it helps running in a pack, because we all help push each other and if one of us runs well then it helps everyone else run well. During races we all just try to run together and make moves together."
"I usually start off pretty fast, probably faster then I should, but it helps the other girls behind me push themselves to get up with me," she said. "Then I just try and stay with them when they make their moves."
Spielman said Durr should be ready for Saturday's state meet.
"She is feeling better," Spielman said. "It was just one of those deals where you get a side ache and it wouldn't go away. The great thing for her is that she gets another race."
The Bulldogs will be running at the state meet Saturday in Wamego. The boys will run at 11 a.m., with the girls' race at 12 p.m. at the Wamego Country Club.
"I am super pumped for state," Twombly said. "There is a lot of competition this year, but I am hoping to give it everything I have to try and medal again. I'm an emotional person though and Julie and I have already cried at league, so I'll probably be a mess at state. But, hopefully, they are happy tears."