Bulldogs rush to playoffs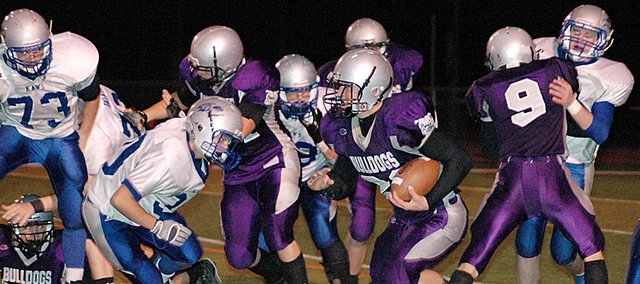 BALDWIN CITY — After a 0-6 start to the season, the Baldwin High football team has turned the season around. The Bulldogs qualified for the Class 4A playoffs here Friday night.
Baldwin defeated Perry-Lecompton for the second straight year. BHS held the Kaws scoreless in the second half en route to winning 36-21.
"We're sitting 2-0 right now and we're feeling good," coach Mike Berg said. "The kids played so hard and I'm so proud of them."
The Bulldogs racked up 498 yards of offense on the Liston Stadium turf. They rushed for 421 of those yards as juniors Ryan Rogers and Josh Hoffman did most of the damage on the ground.
"I'm so excited," Rogers said. "It's a really big relief to make the playoffs after the beginning of the season we had. We would have lost this game earlier in the year, because of the way we started. We fought back and won the game."
Baldwin struggled early as it fumbled the opening kickoff, but recovered at its own 3-yard line. Two minutes later, the Kaws scored a touchdown. After Baldwin answered with a touchdown of its own, the Kaws broke loose on a 70-yard run to take a 14-6 lead.
Both teams exchanged touchdowns before halftime with Baldwin scoring the final one to tie the game at 21-21. The Bulldogs' ground attack dominated the second half as they scored twice and the Bulldogs' defense held the Kaws to 130 yards in their five possessions.
Baldwin will host Eudora on Thursday to decide the district title. Kickoff is 7 p.m. at Liston Stadium.
Perry-Lecompton – 21
Baldwin – 36
PL — 14 7 0 0 – 21
B — 6 15 7 8 – 36
P — Luke Kellum 13 run (John Mehl kick)
B — Josh Hoffman 3 run (Hoffman kick wide left)
P — Trent Robb 70 run (John Mehl kick)
B — Will Von Bargen 1 run (Ryan Rogers run conversion)
P — Brad Phillips 43 reception from Seth Steward (John Mehl kick)
B — Camdon Schwartz 33 reception from Von Bargen (Hoffman kick)
B — Rogers 1 run (Hoffman kick)
B — Sam Foye 1 run (Von Bargen run conversion)