Sales tax forum draws crowd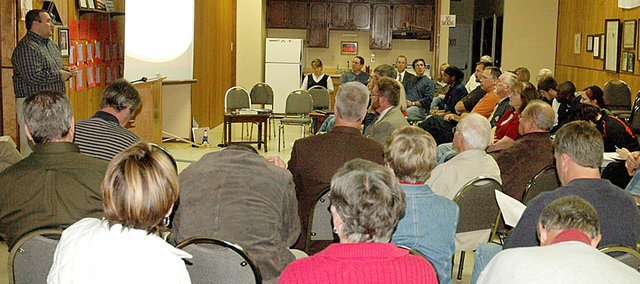 A public forum regarding the upcoming sales tax ballot questions at Monday's Baldwin City Council meeting was designed to inform voters and learn what they want from the revenue generated if it passes.
Judging by the responses of many of the 35 in attendance, it worked. City Administrator Jeff Dingman gave a presentation on the city's sales tax history and what is on the line this time prior to the forum being opened for questions. Voters will decide Nov. 3 on whether to renew the city's present half-cent sales tax, which is proposition 1, as well as adding a quarter-cent sales tax, which is proposition 2.
Dingman said if proposition 1 passes, the estimated $180,000 it raises would go to infrastructure projects, repair and replacement needs such as storm-water control and possibly paying down current debt. The infrastructure needs are many, most notably the north Sixth Street project that has a price tag of $3.5 million, which will be shared with the county.
He said if proposition 2 passes, which would raise about $87,500, that money would go to "quality of life issues," such as hiking and biking trails, improvements to existing parks, such as adding restrooms and parking, improvements to the library and historic places.
Ralph Tanner, former Baker University president and state representative, was in attendance and liked what he heard.
"I came here tonight fully expecting to vote no against both these propositions," said Tanner. "I don't like taxes. Mr. Dingman's presentation has changed my mind on proposition 1 because he said storm water."
Tanner, who was joined by neighbor Don Nutt, another long-time member of the community, explained how their neighborhood has been plagued by storm-water runoff for decades.
"Before you talk about bike trails and soccer fields, you better take care of storm water," he said. "I want some relief on storm water that runs across my backyard on Lincoln Street."
Mayor Ken Wagner thanked Tanner for his comments and explained how the questions had been put on the ballot, trying not to tie the council to a specific project such as the pool, which was funded by the half-cent tax after an election in 1998. It was paid off early and that tax will end in March. The idea for renewing that tax is to help provide property tax relief.
"I sold these guys (city council) hard on giving the people a choice," said Wagner. "On infrastructure, there is such a laundry list of things that need to be done. Quite frankly, we don't have the money to do it. It illustrates the need to continue the half-cent to be able to pay for that."
Gene Nelson, another longtime resident and former Baker professor who routinely attends council meetings, said he likes the sales tax propositions.
"There are two things I like about this," said Nelson, who is also a businessman and has rentals. "No. 1 is broadening our tax base. No. 2 is being competitive with our sales-tax rate. It's not at the top, not at the bottom. Could it be used to ease the burden on property tax for a year or two?"
Wagner said the tax money could be used to pay off some debt as it is written. Dingman added another item.
"We wouldn't have to continue to fund our capital improvements with property tax," he said.
Two other businessmen threw their support behind the propositions.
"I've heard some good points tonight," said Dave Hill, a local banker. "The part that excites me is all the people who were here this weekend (for the Maple Leaf Festival). There are 4,000 people in the city limits and 8,000 people outside the city limits who call this home. I personally think that 75 percent of the sales tax will be paid for by people outside the city limits. A user tax is a fair tax. I think this is a good thing."
Bill Harmon agreed.
"This sales tax would not hurt my business," said Harmon. "What would hurt my business is higher utility bills. I'm excited to get other people to support the community. I'm greatly for this."
But not everyone in attendance was for the propositions.
"My concern is we are going to give you this money and we don't know what you're going to use it for," said LeighAnne Bathke. "This tax never ends. It goes on and on."'
Wagner answered that.
"If this goes down to defeat, we could come back with specifics on this every year," he said. "That's the reason we decided not to do it that way — not be specific so we don't have to go through this every year."
Wagner said he hopes there is a good voter turnout for the Nov. 3 election. It will be the only vote being cast in Douglas County and County Clerk Jamie Shew will count the votes here. The Signal will have those results as soon as possible at baldwincity.com.
"I would view this differently if I thought 100 percent of the sales tax was paid for by our citizens," said Wagner. "It's our only chance to get money from those who come here."