Bulldog volleyball squad falls to Ottawa on senior night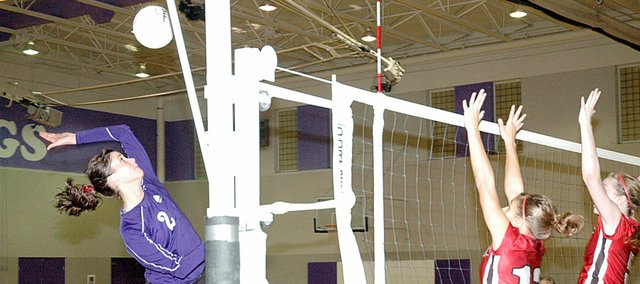 Heading into Saturday's Class 4A sub-state tournament, Baldwin High School's volleyball team has no momentum rolling its way.
The Bulldogs finished last in the Frontier League Tournament over the weekend. On Tuesday, they lost their senior night against Ottawa.
"We did some good things, but we weren't consistent," senior Taylor Brown said. "We played pretty good defense tonight. We were in the right spots and we had a lot of blocks."
Baldwin's last win was last Thursday when it defeated Santa Fe Trail when it celebrated the life of former player Alex Bergan, who died last year unexpectedly. BHS also lost to Tonganoxie in three games that night.
This Saturday, the Bulldogs will head to Spring Hill for the 4A sub-state tournament. They are hoping to regain some momentum that they had after they beat the Chargers last week.
Brown said the Bulldogs need to improve on several aspects of their game. But she hopes they come out fired up and ready to play when the tournament begins at 2 p.m.
"We definitely need to sharpen things up and make sure everything is perfect," Brown said. "We need to come out fired up and ready to play. It could be the last time I play volleyball, so I'll be pretty pumped. I just hope that carries over to everyone else."
Baldwin's sub-state is basically the Frontier League, excluding Class 5A Gardner-Edgerton. Replacing the Trailblazers is Santa Fe Trail. Baldwin's first-round opponent was unknown at press time, but BHS will be the No. 8 seed.
The Bulldogs celebrated their senior night Tuesday. Katie Brecheisen, Mallory Sansom and Brown were honored before their match against the Cyclones.
Ottawa controlled the first two games of the match, winning 25-15 and 25-20 to take a 2-0 lead in the best-of-5 match. However, Baldwin wasn't going down that easily.
Baldwin came back and won the third game 25-20 to extend the match an extra game. BHS led the final game until the Cyclones went on a 6-0 run to take an 18-15 lead. They ended the game with three consecutive points to win 25-22.
"It was a little tough and it didn't end like we wanted it to, obviously," Brown said. "We started a little shaky, but we picked it up and played better at the end."