BHS

soccer game against Eudora called off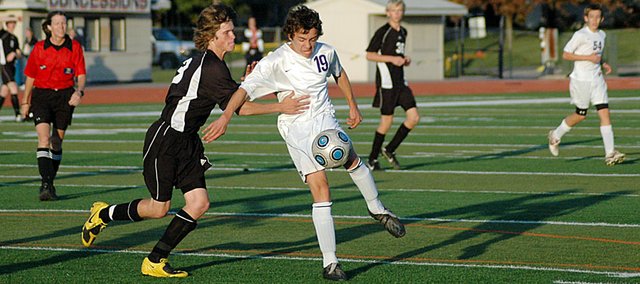 Matt McCune was hoping his soccer team was going to earn its second win of the season Tuesday night.
Unfortunately, that didn't happen as he planned. It wasn't because his Baldwin High School squad lost to its rival Eudora. BHS never had a chance to play the Cardinals.
Before the junior varsity game could get underway, lightning struck in the area. After a couple 30-minute delays, officials canceled the games at Baker University's Liston Stadium.
"We were excited and ready to play tonight," McCune said. "Eudora is used to playing on a small field. We lost to them the first time when we shouldn't have. Then we beat them 2-0 the second time. They are used to playing on a small, slow field, so we were excited to get them out on a large turf field. I felt sorry for the kids, because they were excited to play."
Baldwin did play at Liston Stadium Monday evening. BHS played Paola, which was a game rescheduled from Oct. 8. Baldwin lost a close contest Monday in overtime, 3-2.
"From a soccer fan's perspective, that was a great game," McCune said. "There were a few goals scored. For our team, it was the story of our season. We play well enough to win, but for some reason we get the short end of the stick and can't get the win. It might be that we aren't as experienced, but hopefully we can get some luck on our side in our next game."
Baldwin jumped out to an early 1-0 lead. Sophomore Louis Joslyn drilled a shot into the Panthers' goal six minutes into the contest. BHS led 1-0 for the rest of the half.
Just three minutes into the second half, Paola tied the game. Baldwin attempted a penalty kick outside the box, but it was stopped. Paola took the ball and dribbled up the sideline and scored 45 seconds after BHS nearly scored its second goal.
The Panthers scored their second goal on a penalty kick. However, Baldwin answered two minutes later with a goal. Junior Chris Schrapel outran the Panthers' goalkeeper to a free ball. Schrapel booted it past the charging goalkeeper for the score.
Paola's overtime goal came quickly in the extra period. The Panthers scored less than two minutes into overtime.
"Soccer is a weird sport and there is luck involved as well," McCune said. "I think more so than any other sport, because there aren't a lot of points to be scored. You can be lucky twice a game and win 2-1. We're not the 'Bad News Bears,' but we've had our share of poor luck. I was hoping last night we would have some luck and for a long time it looked like we might."
Despite the loss, McCune said the team is still playing hard. He said the Bulldogs' offense is gradually improving, but at the cost of some defensive pressure.
"I hate playing a 4-3-3, because I'd rather play a 4-4-2 with two forwards," McCune said. "With our lack of goal scoring, we had to go to a 4-3-3. It puts more pressure on our defense, so we've given up a few more goals recently than what I want to, but we're also scoring a few more goals. I think we've outscored last year's total by far."
The Bulldogs will play their first regional game Monday. It will be a road game, but the tournament bracket wasn't available at press time. McCune said his players are excited for the upcoming contest.
"We are ready, but we're not," he said. "We're in the southeast region, so we will start off playing at either Coffeyville or Columbus. So we'll be taking a three-hour bus ride. Other than that, I think they are ready to play in the playoffs, because it's the best part of sports."