BHS

nearly sweeps league cross country meet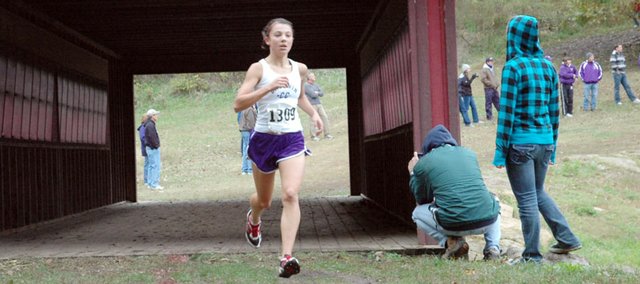 LAWRENCE — Tony Weiss didn't need to outsprint anyone this year to win the Frontier League boys' cross country title.
Weiss had 28 seconds before the next runner crossed the Rim Rock Farm finish line. A year ago, Weiss had to reel in Gardner's Mitch Loring during the final stretch of Gardner's home course to win.
He ran 16:37 on a much faster course last fall. Last Thursday, the Baldwin High School year junior claimed his second straight league victory in a time of 16:35.65.
"Each week, you can see Tony is getting more and more comfortable and improving," coach Mike Spielman said. "Things are coming back to him. It's a good time of the year to be peaking."
Weiss wasn't the only Bulldog to win an individual title last week. Freshman Sienna Durr won her second consecutive meet as she cruised to the girls' title.
"She's kind of on a roll right now," Spielman said. "Hopefully, she can keep that going and keep the other girls right behind her."
Durr finished the 4-kilometer course in a time of 15:53.76, which was 16 seconds ahead of second place.
"Throughout the race, I kept asking myself 'how bad do I want it,' so I had to push it," Durr said. "When I finished, I thought 'oh my gosh, I got first at league and I couldn't even do that last year in junior high.' It was pretty exciting."
Shortly after the race, Durr received a phone call from her older sister, 2009 BHS graduate Calleigh Durr, who helped BHS win three Class 4A state titles. The younger sibling enjoyed the call from her sister, who continues to run at Regis University in Denver.
"It was kind of exciting to tell her what I got since she didn't really expect how good my season would be," Durr said.
Durr's win helped the BHS girls' squad dominate the league meet as a team. The Bulldogs' top seven runners all placed in the top 11, with the eighth girl placing 14th.
They scored 21 points to easily win the meet. De Soto finished second with 58 points.
"It was a pretty dominating performance," Spielman said. "They really went out, packed it up and got after it. It was a really neat deal to see that many of them in the top 15 at league."
Freshman Kaitlyn Barnes was the second runner across the finish line. She trailed Gardner senior Clarissa Johnson by 50 yards with 400 yards left in the race. Barnes chased Johnson down and outleaned her at the line.
The next three Bulldogs across the finish line were junior Heather Karlin (5), sophomore Elizabeth Sigvaldson (6) and sophomore Carol Whaley (7). Rounding out the top eight were senior Julie Hill (10), senior Connor Twombly (11) and sophomore Abi Hartzell (14). There was only 49 seconds from Baldwin's third runner to the eighth.
"We have this really big pack of girls that are running basically the same time," Spielman said. "They are running off of each other.
"It helped us some that we ran the course before," he said. "We talked about how the first time we ran there, we didn't run badly, but we didn't have a great performance. Just knowing that, we knew we couldn't just show up and run on that course, because it is more difficult. I think it helped."
Baldwin's boys' team also ran the course at the Rim Rock Invitational on Sept. 19. However, the boys' team didn't quite have the same success as their female counterparts.
For the first time in more than a decade, the Bulldogs didn't finish first or second at the league meet. They were narrowly defeated by Gardner as they placed third with 68 points, five behind the Trailblazers. De Soto won with 35 points.
"Gardner only got us by five points, but De Soto was a lot better than us that day," Spielman said. "Dealing with the situation we had, we still gave it a good run."
Baldwin was still dealing with some injuries and sickness last week. Sophomore Brian Wright, Baldwin's second runner, didn't run. Junior Carson Barnes came back last week after missing a week of practices.
"We're still trying to piece things together right now," Spielman said. "We have this really nice pack with our four, five, six and seven guys. We just need to keep moving that pack up. We'll be bringing Brian back this week and Carson is coming back from missing a week. We'll have everybody back with another week of training as we try to make a push these last two weeks."
Following Weiss was sophomore Tosh Mihesuah. He finished 10th in a time of 18:07.2. The next Bulldogs to finish were junior Kyle Garcia (16), junior Joey LaBuda (17), junior Ethan Horne (22), sophomore Cory Stephens (25) and senior Andy Woods (28).
"We just have to keep getting those guys to move up," Spielman said. "It's going to help, too, having Brian back in there. He will help close that gap as our number two runner."
Both BHS teams will try to qualify for the state meet Saturday at the Class 4A regional at Wyandotte County Park. The girls will run at 3:30 p.m. with the boys to follow at 4:30 p.m.
"We're seeing some of the same teams again," Spielman said. "We just need to go out and keep doing what we've been doing. We just need to keep improving and stay packed up as a team."