Maple Leaf Festival's first day draws large crowd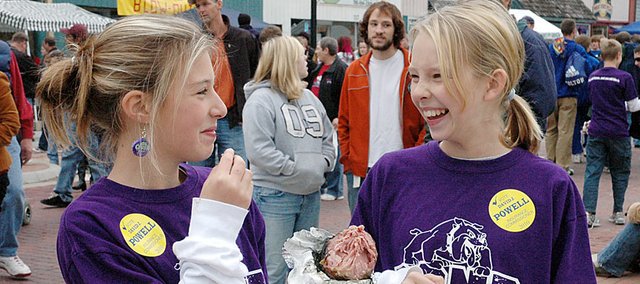 Although there was a lack of sunshine, there wasn't a lack of people for the 52nd annual Maple Leaf Festival here Saturday.
The sun popped out on and off much of the day. But mostly it was off, and temperatures in the 40s reflected it. Just ask the sno-cone booth salesman.
"People automatically scoff when they walk by, saying 'how many sno cones have you sold?'" said David Pressgrove, who lives in Craig, Colo., but was born and raised in Baldwin City and returns every year to help with his parents' sno-cone booth. "It's give and take every year. Some times it's a banner year for sno cones."
This was not that year. But he's seen it before.
"It's probably an average October for us, just because there have been rainy really bad ones and sunny really nice ones. This one is in the middle," said Pressgrove, who is the grandson of one of the festival founders, Ivan Boyd. "What can you do? My grandpa decided this was the week for the leaves to turn."
But don't pity the poor sno-cone hawker. The booth is a bit diversified.
"I've sold popcorn, basically, and cider," he said. "I had to go get more popcorn. I don't ever remember having to do that before."
The maple leaves' beauty this time of year that inspired Boyd and others to start the festival 52 years ago do bring people to town. They are one of the reasons that Steve and Kathy Foster of Ozawkie have made the trek here since 1977.
"I like the leaves, she likes the crafts," said Steve Foster. "It's chillier than usual and a lot more overcast."
They were riding the shuttle bus into town at around 1 p.m., well after the grand parade that draws thousands to the festival was finished and the crowds had started to disperse.
"I want it to be over," said Kathy Foster about the parade and who also has another reason to attend. "I come for the quilt show. I was always a quilt wanna-be-er. Now that I've retired, I'm working on them."
Like Pressgrove, they've seen the festival in all kinds of weather. They remember when it was so hot that bees were all over everything. They've seen it rain the entire weekend. They still keep coming back. Each type of weather has a different effect on the festival, according to Maple Leaf Committee Chairman Annie France.
"It would have been nice to have some more sun. When the sun comes out, it feels good and everyone soaks it up," said France. "But when it's cold outside, the food smells and tastes better."
France said the festival has gone smoothly so far. The crowd has been big and vendors have done well.
"It's really busy," she said. "It's difficult to maneuver around, which means there are a lot of people here. There are lines everywhere for food. The crafts vendors are busy and they seem to be happy. I'm seeing people with bags carrying things they've purchased."
Irene Rasmussen of Emerson, Neb., was selling t-shirts from her booth. It was her first time for the Maple Leaf Festival.
"It's a little slow," said Rasmussen. "If we had some sunshine, it would help. It should help tomorrow (Sunday). I've had a lot of lookers. Who knows, maybe they'll come back and buy. It's a good show."
The forecast for Sunday's final day of the festival is for sunshine and warmer temperatures.
"It's supposed to be beautiful weather," said France. "Who knows? There maybe more people for Sunday."