BHS

volleyball team wins for Bergan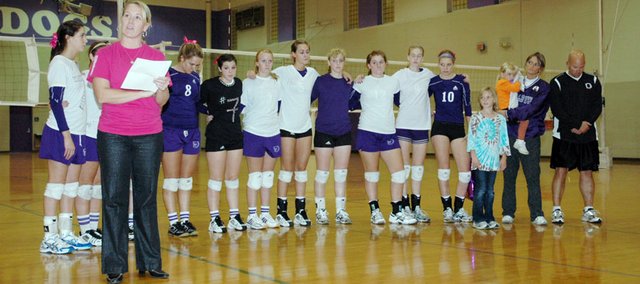 Baldwin High School's volleyball team honored former player Alex Bergan with victory Thursday night.
A short celebration before the final match inspired the Bulldogs enough to go out and beat Santa Fe Trail in two games.
"We had a great reason to be playing volleyball tonight," coach Kelly Brown said. "It's also a great time of year to be playing well and we are right now."
Bergan, a 2008 BHS graduate, died in early December of 2008. Her parents, Marc and Kim Bergan, came to the Bulldogs' matches Thursday to accept their daughter's recognition.
After the celebration, Baldwin started the match with a 5-0 lead. BHS continued to roll, winning the first match 25-19. The second match was back and forth until Baldwin took a late 20-16 lead. BHS won the match 25-21 to end the night.
"This feels amazing," junior Ramie Burkhart said. "We were really pumped up from the beginning. It just helped to know that we were honoring Alex. We wanted to play for her so badly."
Baldwin also played Tonganoxie and lost in three games. Tonganoxie won the first game 25-21, but Baldwin tied it up, winning 25-14. Then the Chieftains won the final game 25-12.
The Bulldogs are back at home Tuesday for senior night. The action starts at 5 p.m.