BHS

football team crushes Chargers 62-10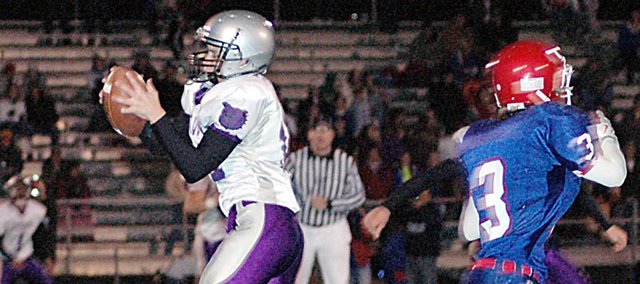 CARBONDALE — Both teams may have entered Friday's Class 4A district game here winless, but Baldwin High came away with a dominating victory.
The Bulldogs scored nine touchdowns, forced six Santa Fe Trail turnovers and got their first win of the season. Baldwin (1-6) defeated the Chargers (0-7) 62-10.
"This is by far our most complete game of the season," BHS coach Mike Berg said. "We played on both sides of the ball tonight. I couldn't be happier for the kids tonight. They've fought through adversity. We've been sick, we've had turnovers and we've missed tackles. They've come back every week and now they're rewarded for it."
Josh Hoffman scored four of Baldwin's touchdowns, all of which were on the ground. Jake Mindez, Sam Foye and Jove Mortenson also scored rushing touchdowns for Baldwin.
Ryan Rogers recovered a SFT fumble in the end zone to give BHS a touchdown early in the second quarter. Later in the quarter, Will Simmons jumped in front of a Charger wide receiver to intercept a pass. Simmons returned it 39 yards for the score.
Baldwin will host Perry-Lecompton at 7 p.m. Friday at Liston Stadium.
Baldwin – 62, Santa Fe Trail - 10
B — 14 28 7 6 - 62
SFT — 0 0 8 2 – 10
B — Josh Hoffman 7 run (Hoffman kick missed)
B — Hoffman 8 run (Hoffman kick)
B — Ryan Rogers fumble recovery 0 (Hoffman kick)
B — Jake Mindez 2 run (Hoffman kick)
B — Will Simmons 39 interception return (Hoffman kick)
B — Sam Foye 3 run (Hoffman kick)
B — Hoffman 22 run (Hoffman kick)
B — Hoffman 12 run (Hoffman kick)
SFT — Blade Wright 11 reception from Phoenix Anshutz (Corey Dahl reception from Anshutz)
SFT —Will Von Bargen safety
B — Jove Mortenson 15 run (Hoffman kick missed)