What to do, what not to do during Maple Leaf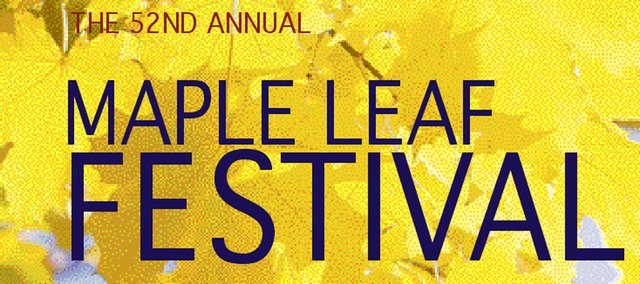 There are certain things people should do and certain things they shouldn't do when attending the Maple Leaf Festival.
The biggest "do" on the list regards parking, which is severely limited around the downtown area during the festival. For the past five years, there have been parking areas at Baldwin High School with access from U.S. Highway 56 and County Road 1055 and at Baldwin Elementary School Intermediate Center on U.S. 56. Cost is $5 and has become a popular way to beat the parking crunch.
Shuttle buses will take people from those parking lots to Sixth and Chapel streets, where they can walk to the festival or catch a tram that will take them there.
"The shuttles run every 15 minutes or so from the corner of Chapel and Sixth streets to the parking lots," said Annie France, Maple Leaf committee chairman. "The dollars generated by parking in these remote lots assist our schools and allow you to park easily and conveniently.
"Parking is limited closer to the festival, and between the trams and shuttles, the trip back to the remote lots is quick and easy," said France.
The biggest "don't" is easy, too. It's in regards to animals.
"Do not bring your dog to the festival," she said. "You will be asked to leave with the dog and it is not safe to leave your dog in the car while you attend the festival."
This rule has been in effect for the past two years after the Baldwin City Council established an ordinance banning all animals from the festival and other public events. It was the result of a young girl being bitten in the face by a dog several years ago.
Visitors and local residents also need to be aware of changes in traffic patterns for the festival with two one-way streets. On 10th Street, traffic can only go south, while a block over on Ninth Street, it can only go north.
"Please note that there are extensive changes in our parking and one-way street designations throughout the city in preparation for the festival," said France. "We know these can be confusing, but it is to provide a safe environment for all the attendees. Please note the changes and be ready."
There are several other vehicle items of note.
"If you require handicapped parking, please make sure to have a placard or disability tag," she said. "You will be towed if you are not properly identified. Mobile vehicles such as four-wheelers and golf carts are prohibited within the festival other than by law enforcement and festival staff."
Also of interest to those needing help are what's offered at "festival central" around Eighth and High streets.
"The first aid booth will be set up at Eighth and High and will also have flu shots this year at a cost of $25," said France. "Lost and found can be accessed at the emcee booth at Eighth and High. This is the point of contact for any announcements or items turned in."