Protasio qualifies for state tennis tournament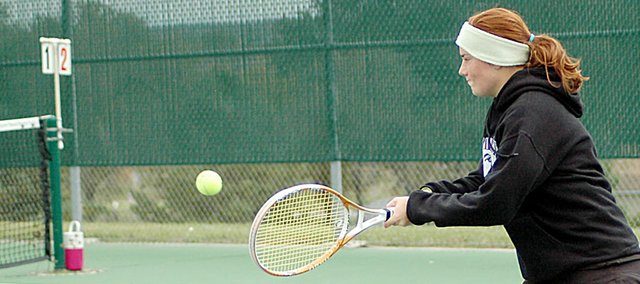 DE SOTO — Kara Protasio turned some heads at the Class 4A girls' regional tennis tournament here last weekend.
The Baldwin High School junior entered the 22-player tournament unseeded. She left with a 4-1 record, fifth-place finish and a trip to Topeka for the state tournament this weekend.
"I am very excited for Kara," coach Justin Hoffman said. "She was unseeded in the tournament and had to defeat a player she has lost to three times this season to get to a position where she could qualify for the state tournament."
Protasio started Friday by beating Perry-Lecompton's Kayla Ledbetter in a play-in match. The BHS junior won 6-3, 6-1 to advance into the round of 16. There she faced Saint James' Lauren Obermueller, who had defeated Protasio three times this season. However, Protasio won the most important match of the season, winning 6-4, 6-0.
In the semifinals, Protasio lost to De Soto's Suzie Gulley 6-1, 6-4. That bumped her down to the consolation semifinals, which were played Saturday.
Protasio had to beat Saint James' Julia Reinhardt to earn a spot at the state tournament. She took care of business Saturday morning, as she won in straight sets, 6-2, 6-1.
Her final match of the tournament came against Spring Hill's Bri Stites. Protasio won the first set with ease, 6-0, but lost the second set 6-3. That forced a super tiebreaker, which the BHS junior won 11-9 to finish fifth.
Baldwin's doubles teams went 1-2 at the regional tournament. Both were seeded in the top seven, but came one win from qualifying for state.
The team of junior Michaela Krysztof and sophomore Kara Hoegerl needed a super tiebreaker to beat an Ottawa team in their first match. They won 6-7, 6-3, 10-8. Then they fell to the Saint James' team that finished third, 6-3, 6-0. The BHS team needed to win its first match Saturday to qualify, but lost a tough one to a Spring Hill team, 2-6, 6-3, 11-9.
Baldwin's other team of sophomores Alison Berg and Hayley Schwartz had the same fate. They beat a De Soto team 6-4, 6-4, before falling 6-3, 6-2, to a team from Topeka-Hayden. The BHS duo also lost their final match in super tiebreaker, losing 4-6, 6-1,10-8.
"Both doubles teams fell to Spring Hill teams in a state qualification match, both in 10-point superbreakers," Hoffman said. "Michaela and Kara played with aggression the first set and won it easily. Unfortunately, they did not keep up their level of intensity in the second. They played well despite some of the circumstances they faced in that match.
"Alison and Hayley had a tough match against Spring Hill's No. 1 doubles team," he said. "We won the first set, but could not stay consistent in the second. To Spring Hill's credit, they began to lob the ball in the second set and basically took Hayley out of the match."
Baldwin's other competitor was freshman Kaitlin Jorgensen. She played one match and lost on Friday, 6-4, 6-1.
"Kaitlin fell to Summer Gernon from Hiawatha in the round of 16," Hoffman said. "She played well and had many long points and games. If she continues to develop as she has, she will be a force in this area in tennis for the next couple of years."