Grand parade should last usual length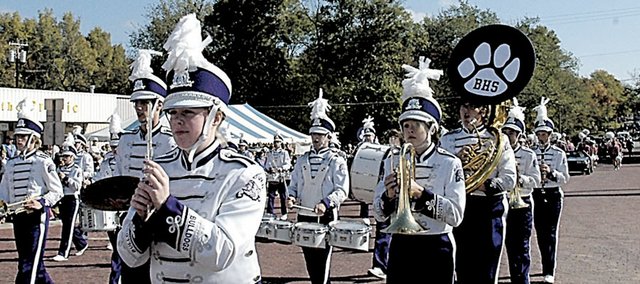 While the troubled economy has most places cutting back, it doesn't seem to be affecting the annual Maple Leaf Festival grand parade.
The length of the parade, which is usually more than an hour, should be about the same Saturday. It will begin at 11 a.m. and should last until afternoon, according to Sheri Caldwell, co-chair of the MLF parade.
"It should be about normal," Caldwell said. "It seems like we have the usual number of entries. I think we have some different ones this year, along with the usual ones. So I think we will have a good mix."
This year's parade will feature much fewer politicians than a year ago. There will also be fewer school bands performing as the number is down to seven this year, which is nearly half of last year's total.
However, there will be more military troops in this year's parade.
"It's always nice to have more military representation," Caldwell said. "That will be a great bonus."
The 2009 parade theme is, "And that's the way it was." Caldwell and co-chair Jeremy Rodrock hope the theme opens the door for new ideas with float decorating.
"We're hoping for some different ideas with the floats this year," Rodrock said. "I think the theme allows for some interesting ideas."
This year will be the fourth year of the changed parade route, after the Downtown Streetscape Project forced the MLF committee to change the route. It will still begin at the corner of Third and High streets and head west down High Street. The parade will turn right, or north, on Sixth Street, where the MLF banner hangs above the street. It will end at the corner of Sixth and Chapel at Baldwin Elementary School Primary Center.
"We're having the same parade route as the past couple of years," Rodrock said. "I think it's working great. I personally, was against it at first, but it's working out really well."
Maple Leaf Festival committee members are now hoping for a warm, sunny day Saturday.
"I'm ready for Saturday," Caldwell said. "I just want the weather to be nice so that everyone can have a nice day."
Rodrock agreed, saying the parade is one of the main features of the weekend.
"It's definitely a huge highlight of the festival," Rodrock said of parade. "I think it's a huge draw and the reason there are a lot more people here Saturday than Sunday."