Bulldogs' record doesn't reflect Saturday's performance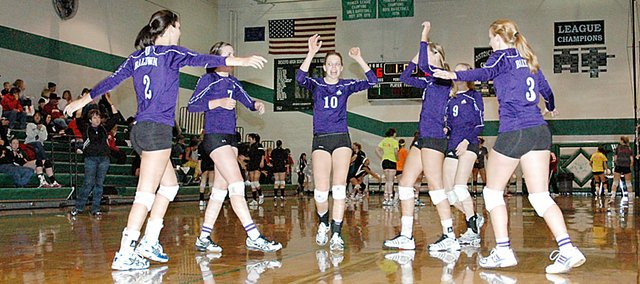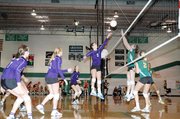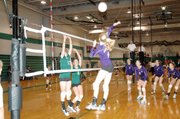 DE SOTO — Although the record might not reflect it, Baldwin High School's volleyball team played its best tournament of the season here Saturday.
Baldwin went 1-3 in pool play and was unable to advance into the top six for the bracket round. However, two of the teams the Bulldogs lost to finished first and second in the 10-team De Soto Spikefest.
"We played really well Saturday," coach Kelly Brown said. "That's the best we've played at a tournament all season. They played hard all day long and I was proud of them."
Baldwin finished tied with De Soto and Basehor-Linwood for third in their pool. Baldwin beat Basehor, Basehor beat De Soto and De Soto beat Baldwin, which forced a tiebreaker. Basehor advanced to play in the fifth-place match, where it lost to Jefferson West in three games.
"There were some good teams at the tournament," Brown said. "Our girls came out of the tournament feeling good and happy about how they played."
The Bulldogs began the day with Central Heights, who went on to win the tournament. The Vikings beat Baldwin 25-18 and 25-19. Brown was surprised by the loss, but she was impressed with the Vikings.
"Central Heights is a good team," she said. "They have a couple players that are aggressive and put the ball away. We weren't quite ready to play defense early in the morning."
Baldwin next faced De Soto and lost in similar fashion, 25-19 and 25-18. After an 0-2 start, the Bulldogs squared off with Basehor, who beat De Soto 25-10 and 25-16, but lost to Tonganoxie in three games.
The Bulldogs led late in the first game against Basehor 20-16, but the Bobcats rallied to win 25-21.
"We showed some fight in us after losing that first game," Brown said. "The girls didn't let up at all. We stayed aggressive with our offense and our hitters were on. We made some great serve-receive passes that match to help execute our offense and it made a big difference."
Baldwin then came back to win the next two games. The second one was a battle, but BHS pulled out a close win, 25-23. Baldwin controlled the third game, winning 25-15.
"They were excited," Brown said. "They worked hard for it. What usually happens is after they lose the first couple in the morning, they get mental and don't think about the upcoming matches. But on Saturday, they let those other ones go and worked hard to win that match."
The Bulldogs' final match came against the Chieftains, who finished second in the tournament. The Chieftains won both games, 25-16 and 25-18. Brown said Tonganoxie had improved since playing them early in September.
"Tongie made some lineup changes, which was definitely to their benefit," Brown said. "We could not stop two of their hitters. If we can't get our defense going, then we can't get our offense going to put the ball away."
Baldwin will be hosting Tonganoxie and Santa Fe Trail tonight at home. BHS will play Tonganoxie at 5 p.m. and SFT at 7 p.m. Before the SFT match, the Bulldogs will honor former BHS player Alex Bergan, who died last year.
BHS will also play in the Frontier League tournament Saturday in Louisburg and host senior night Tuesday against Ottawa.