Bond issue projects continue to be low … including new road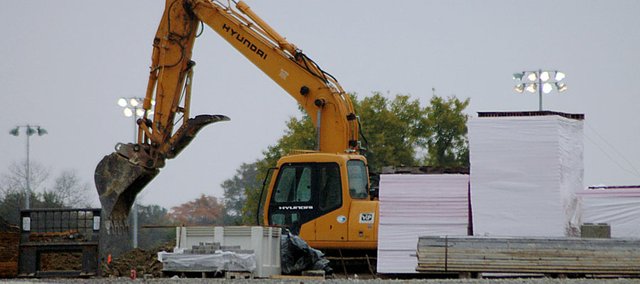 Good news came Monday night regarding Baldwin School District's 2008 bond issue projects' budget.
Merv Penner reported the good news to the Baldwin School Board members at their monthly meeting. He said the entire bond issue is tracking $1,017,000 under budget to date. That includes paying for the extension of Bullpup Drive to Elm Street and from Elm to Lawrence Street.
"Right now, it looks like we are going to pick up the street extensions within the parameter of the budget and still remain under budget for the whole bond issue," Supt. Paul Dorathy said. "We have one more major project to bid, which is the performing arts center. Anything we come in under budget with is money we could give back to the taxpayers. So it's looking good right now for the projects and the taxpayers, because we may not have to spend the entire $22.9 million."
Dorathy said the DLR Group architects are planning on sending the performing arts center plans to bid in January. He said the plans are taking longer than expected, but the designs might save the district some money.
On Monday, Penner presented the bids for the street extension to the board. Of the 14 bids, RD Johnson Excavating was approved as the low bidder for $579,999.99. The board unanimously approved the entire cost of the street project at $901,501.99.
"We got very good bids on the street," Dorathy said. "We have 14 bids, which is wonderful competition for us, and that resulted in very competitive bids. We feel very good about that project."
The other good news Monday was in regards to the new Baldwin Elementary School Primary Center. Penner said the project is tracking $1.3 million under budget. Work on the building itself began almost two weeks ago, after the district received the building permit from the city.
The district was waiting for approval from the state. Once that came, the city issued a building permit and work began Oct. 5.
"We are finally moving on the new elementary school," Dorathy said. "We got approved by the state for that project and the city gave us our permit. Crews are working now, but weather has slowed us up a bit."