BHS

defense holds early as turnovers lead to 28-0 loss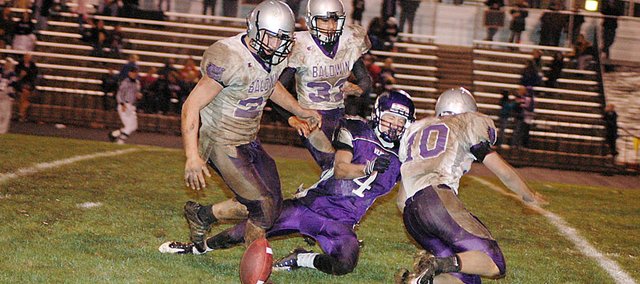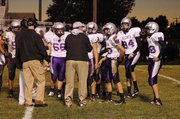 LOUISBURG — If Baldwin High School's offensive production would have matched that of the defense early in Friday's Frontier League football contest here, the end result might have been different.
A trio of turnovers to start the game proved costly for the Bulldogs. A pair of interceptions, one of which was caught in the end zone, and a fumble doomed the Bulldogs early. Baldwin (0-6) went on to lose 28-0 to Louisburg (5-1).
Baldwin held the Wildcats to a pair of three-and-outs and one first down on offense on their first three possessions. The Wildcats only gained 25 yards (30 of which came on one play) during the first quarter of their homecoming.
"Our defense kept us in the game early," BHS coach Mike Berg said. "It's some of the best defensive execution we've had all year. I'm so proud of our kids, because they showed up and played a full game against a very good, very experienced team. They are 5-1 for a reason."
That defensive domination didn't result in much offensive production early for the Bulldogs. After a very short punt gave the Bulldogs possession on Louisburg's 37-yard line, they gained a first down. Unfortunately, BHS threw an interception on fourth down.
Baldwin once again held the Wildcats to another punt. On the first play after the punt, Baldwin fumbled, giving the Wildcats the ball on the BHS 39-yard line.
"We are turning the ball over and we're not being consistent on offense," Berg said. "It just goes with playing experienced, good defensive teams."
It was the same story four plays later. Baldwin held the Wildcats on a fourth down on the BHS 9-yard line. On Baldwin's third down, junior Will Von Bargen scrambled left in the end zone and threw a pass in a crowd of players. Louisburg's Ashton Dover tipped the pass around before catching it for a touchdown.
"It was a game of field position," Berg said. "We had them pinned down on their side because our defense played so well early. They had that punt, but we weren't able to execute offensively. Then it seemed like we were on our side of the field for the rest of the game. They did a good job of keeping us on our side of the field. When we have to punt deep in our territory with a wet, muddy ball, it makes it tough."
Baldwin was held to another three-and-out on its next possession. However, that BHS defense couldn't stop the Wildcats from driving 42 yards in nine plays and scoring its second touchdown. The Wildcats added another touchdown right before halftime to lead 21-0.
In the second half, Louisburg scored one more touchdown, while the Bulldogs were held to just one first down. Berg was proud of his defense against a team that's only lost to Class 5A Gardner-Edgerton.
"We put some different personnel on the defensive line," Berg said. "We plugged the gaps on defense and we wrapped up last night. We haven't been wrapping up and putting people on the ground. We've been hitting them and hoping they fall down. That was a big thing that changed Friday."
The Bulldogs begin district play this week at 7 p.m. Friday at Santa Fe Trail (0-6).
"Everybody has the same record now and that's what we told our kids," Berg said. "It's our new season. We just have to build on what happened Friday night and play with the same intensity and excitement. Our kids had fun last night and we haven't been having fun."
Baldwin is hoping to get a fresh start for their final three regular season games. BHS will host Perry-Lecompton Oct. 23 and Eudora on Oct. 29 to wrap up district games.
"It's going to be nice having two of our last three at home," Berg said. "We're just going to take it one game at a time. We just need to execute, take care of the ball and get better."