BHS

cross country teams cruise to wins at Sabetha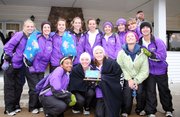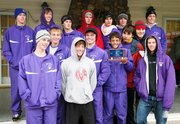 Baldwin High School's cross country teams came home Thursday night with a pair of titles from the Sabetha Invitational.
Both teams won with ease last week. The BHS girls' team scored 18 points to win, while the boys' team scored 30 points. The second-place girls' squad, Kaw Valley, had 68, while Holton scored 97 to finish runner-up on the boys' side.
"We are starting to get everybody healthier, even though we are still missing a couple kids," coach Mike Spielman said. "We are getting in that groove again and we had a big day Thursday."
The BHS girls' squad nearly pulled off a sweep at Sabetha. The Bulldogs finished in seven of the top eight spots, with only third place missing from the sweep.
"It was a good goal they had," Spielman said. "They wanted to get the top five. Even without doing that, they ran well and packed up well as a team."
Freshman Sienna Durr won her first high school cross country race. She finished in a time of 15:55. Sabetha was also the course her older sister, 2009 BHS graduate Calleigh Durr, won her first-ever race a year ago.
"Sienna had a great race," Spielman said. "She got up front early and took off. She really got after it. Last year, Calleigh's first win came at Sabetha and now her sister's first high school win came here, too. It was a neat deal for them."
Following Durr were freshman Kaitlyn Barnes (2), junior Heather Karlin (4), sophomore Elizabeth Sigvaldson (5), senior Connor Twombly (6), sophomore Carol Whaley (7) and senior Julie Hill (8). The split from Barnes to Hill was 19 seconds.
"We ran really good times," Spielman said. "I know they don't like the cold weather, but it's the best weather to run in. It didn't rain on us too much, it was more of a mist."
Junior Tony Weiss brought home gold for the BHS boys. He won with ease as second place was 44 seconds behind him. Weiss ran 16:39 to win the 5-kilometer race.
"He's starting to feel better," Spielman said. "There was a stretch in there where he felt kind of tired and sluggish. Now he's starting to feel sharper and it's a good time of the year for him to start feeling better."
Baldwin's next finishers were sophomore Tosh Mihesuah (4) and junior Joey LaBuda (6). Following them were juniors Kyle Garcia (9) and Ethan Horne (10), sophomore Cory Stephens (13) and senior Andy Woods (15).
"We did a really nice job," Spielman said. "We are still missing two of our varsity guys, but the other guys are running better. We've got some JV guys running on varsity and it's making us tougher as a team."
Woods agreed with his coach.
"We did well without Brian (Wright) and Carson (Barnes) in there," he said. "Corey and I were the guys who filled in for them. I ran pretty close to my PR, so I was happy."
The Bulldogs will compete in the Frontier League Championship today at the Rim Rock Farm north of Lawrence. The girls run at 4:30 p.m. with the boys at 5:30 p.m. The Kaw Valley League will run at 4 and 5 p.m.
"It's a chance to go back out there and run again," Spielman said. "It will be different because the first time we go out to Rim Rock, there are a bunch of big schools and lots of great runners. Plus it's a little warmer, so it's a little overwhelming. Now we go out there and the numbers are smaller. It's cooler in the year, so they have a lot better experience."