Bailey honored as grand marshal of parade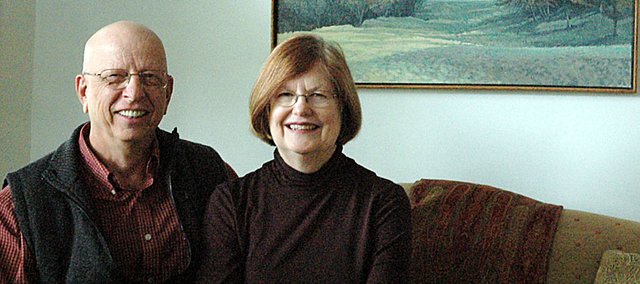 Walt Bailey recalls watching the annual Maple Leaf Festival grand parade begin at his house decades ago.
The longtime Baldwin City resident and Baker University professor also remembers when the parade route switched directions. Three years ago, the festival committee stopped the route at Sixth Street, ending Bailey's run as a prime location.
"The parade used to start at our house and then it used to end at our house," Bailey said. "It's been kind of interesting to watch the changes through the years. I can remember being a student in town when the first parades started happening. It's fun to think of it across time."
This Saturday morning, Bailey and his wife, Barbara, won't have to worry about watching the grand parade. Why?
They will be riding near the front of the hour-plus parade that makes it way through Baldwin City. Bailey was chosen as the grand marshal of the 52nd Maple Leaf Festival.
"I was very surprised," Bailey said. "It's clearly an honor, but it's nothing I had ever imagined doing or having such a recognition given to me. I was very surprised. "It's one of those things when the community chooses someone to be in that place and be looked at by everyone in town and the surrounding area," he said. "It is an honor. In some ways, it's someone everyone looks at to see who is going to be in that role. I think it's definitely seen as an honor."
When Bailey was asked to be the grand marshal of the 52nd Maple Leaf Festival, he was a bit reluctant to take the honor. After taking some time to think about the request, Bailey accepted the nomination.
Bailey said he and Barbara are ready for Saturday, but his grandchildren are more excited.
"I haven't really fully processed it, I guess," Bailey said. "The invitation came a few weeks ago, but I wasn't sure I deserved it or not. I think it will be fun and I know that our grandkids are thrilled about it and that's a nice added attraction.
"Everyone loves a parade," he said. "In this instance, I think they are more excited, because they will be able to look at their grandparents riding in the parade."
Bailey retired from teaching following the 2007 spring semester, after 42 years on the art department faculty. But Baker President Pat Long asked him to stay on in the newly created position of special assistant to the president for the development of the arts.
Annie France, Maple Leaf Festival committee chairperson, said Bailey's time and effort to the community and education have been greatly appreciated. That's why he was chosen as the grand marshal.
"Walt Bailey has made significant contributions to the Baker and Baldwin City community through his involvement in the arts, nonprofits and education," France said. "He represents a quality of character and commitment to learning that is to be recognized. He's a wonderfully thoughtful and gifted individual and we're glad to have the opportunity to honor him and his achievements."
It's an opportunity they will never forget.
"It's something that we'll remember over time," Bailey said. "In that way, it's sort of an extra special thing to be a part of."