Art, craft booths will have something for everyone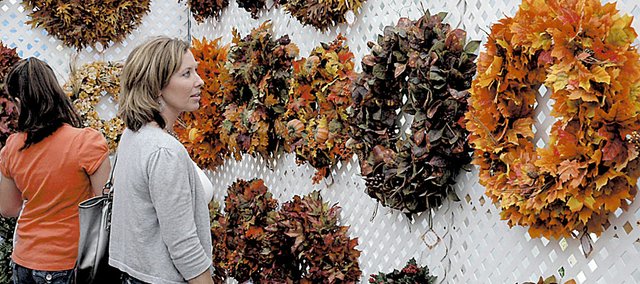 For many of the thousands of people who attend the Maple Leaf Festival every year, the reason for coming is hundreds of arts and crafts booths.
Once again, space for the booths is sold out and there will 300 to shop at this year. There will be Maple Leaf mainstays, as usual, but there will also be the usual splash of new vendors . "We have a large number of returning vendors with the usual, long-time Maple Leaf favorites, but we also have some new vendors this year with some very interesting and creative additions to the choices attendees will have," said Sandy Cardens, one of the arts and crafts booth chairmen.
There will be a wide variety of items for shoppers to sort through this year, as usual.
"This year's group of crafters include makers of products such as Adirondack chairs, wood inlaid artwork, mirrors, tables and other furniture, metal yard art; oil, watercolor and acrylics artists; very creative photography; lots of new and creative jewelry, which is always one of the most popular items," said Cardens.
The list of vendors this year includes those from Baldwin City and the surrounding area, as well as all over the state and even some from far away.
"I think we literally have everything from soup to nuts and out of about 200 vendors, 30 percent are from Baldwin City or surrounding areas like Lawrence or Ottawa," she said. "The largest number of vendors appear to be from Kansas, but there are a number who have heard favorably about the festival from out of state.
"I believe the vendor coming from the longest distance this year is from the state of New York," said Cardens.
The Maple Leaf committee chooses the vendors every year and requires that the items to be sold are hand made. There has also been a shuffling this year with some of the vendors for whatever reason, she said.
"We've noticed that we have a few vendors who have not returned this year, perhaps because of the economy, and a few that we've decided not to accept back for one reason or another," said Cardens. "However, we almost always have more requests for space than we can accommodate. Amazingly, we are still getting requests for booths in the last week before the show."
She's also sure that the thousands of shoppers who make the annual trek to Baldwin City won't be disappointed.
"We believe our visitors will be very pleased with the items they can browse through or purchase at this 52nd Maple Leaf Festival," said Cardens.