There's no place like home for Bulldogs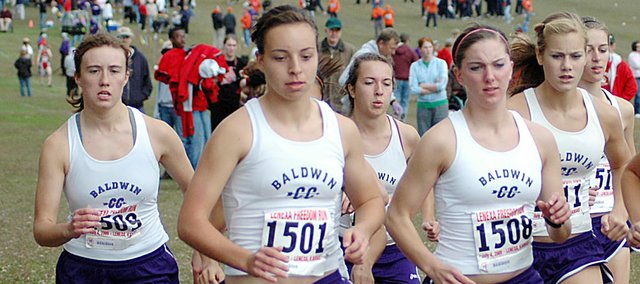 There must be something magical about the Baldwin City Municipal Golf Course.
Each time the Baldwin High School girls' cross country team runs there, great things happen. Not only do many of the Bulldogs run their personal-best times, the team is undefeated on its home course this fall.
"They really enjoy people coming out and cheering for them," coach Mike Spielman said. "There were a lot of friends, family, alumni and community members out there. They really love the support."
On Saturday, the BHS girls' team defeated four other schools at the Community America Bank Invitational. BHS scored 39 points to hold off the larger Kansas City area schools. The other competitors were Shawnee Mission Northwest (52), Shawnee Mission West (56), Shawnee Mission North (96) and Lansing (137).
"We did a great job of getting in there and competing Saturday," Spielman said. "It was a big win for the girls' team against some big schools."
Although the margin of victory was 13 points, the BHS girls' squad wasn't sure they had won the meet after the race was over. A pair of SMNW girls placed first and second, which worried the Bulldogs.
"I was excited we won," freshman Kaitlyn Barnes said. "We weren't sure we were going to win, but it's very exciting that we did. A lot of people came out and cheered us on, which helped a lot."
Barnes was once again the Bulldogs' second runner. She trailed fellow freshman Sienna Durr, who had led the Bulldogs at four of their five meets this season.
Durr finished third behind the pair of SMNW runners. Barnes and senior Julie Hill were the next finishersc as they placed sixth and seventh. Junior Heather Karlin was right behind them in ninth place.
A pair of sophomores came across the finish line next for the Bulldogs. Elizabeth Sigvaldson placed 14th, while Carol Whaley finished 16th in her first varsity race. Senior Connor Twombly (18th) and sophomore Abi Hartzell (21st) rounded out the eight-girl lineup.
"We had a really good pack," Spielman said. "It was really nice to see that all of them were competitive and got right up in there and ran well. They will all get to run against each other this week and next week, too."
Most races only allow seven on varsity, but Saturday's race allowed for more. The Bulldog' next two meets, Sabetha Invitational and Frontier League Championship, will have the varsity and junior varsity girls run together.
On the boys' side, Baldwin was missing three of its varsity runners. Sophomore Brian Wright, junior Carson Barnes and junior Kyle Garcia didn't run Saturday, which forced BHS to rearrange its lineup.
As a team, the Bulldogs placed fourth out of five teams, with 88 points. SMNW won the meet with 28 points. SMW (55) placed second and SMN (70) was third with Ottawa (155) in fifth.
"I thought we ran well with a new lineup today," sophomore Tosh Mihesuah said. "We just had a bunch of people sick. We did well, though."
Junior Tony Weiss continued to lead the Bulldogs. Weiss finished second, behind SMNW's Sterling Spencer. Mihesuah was the only other Bulldog to medal Saturday, as he placed 12th.
"I was really happy with my race," Mihesuah said. "I just got up there and stayed up there. I think I conserved too much during the first mile. I was happy to run my best time ever."
The other BHS boys who ran were junior Joey LaBuda (28), junior Ethan Horne (31), senior Andy Woods (32), junior Tim Larson (35) and senior Brandon Kraus (44).
"On the boys' side, we're dealing with injuries and sicknesses," Spielman said. "We're still trying to piece things back together. We're heading in the right direction. We were competitive with those other teams with guys gone and that's what the guys need to do every race."
The Bulldogs will travel north for their next meet. They will head to Spielman's high school, Sabetha, to race at 4 p.m. today. After the meet, the Bulldogs go out to Spielman's old farm to enjoy fun and a taco dinner.
"It's a fun trip for the kids," Spielman said. "We see different competition. Then we have the chance to go out to the farm. It's a unique part of the season. They enjoy the tacos, hay bales and the arm wrestling."
Barnes is ready for her first trip to Sabetha.
"I'm excited to run at Sabetha," she said. "I'm ready for the meet and the fun after the race."
Results
Varsity girls
3. Sienna Durr, 15:35.24
6. Kaitlyn Barnes, 15;52.06
7. Julie Hill, 16:07.79
9. Heather Karlin, 16:09.02
14. Elizabeth Sigvaldson, 16:18.25
16. Carol Whaley, 16:33.17
18. Connor Twombly, 16:35.78
21. Abi Hartzell, 16:42.73
Varsity boys
2. Tony Weiss, 16:31.1
12. Tosh Mihesuah, 17:26.79
28. Joey LaBuda, 18:50.08
31. Ethan Horne, 18:58.l3
32. Andy Woods, 19:00.74
35. Tim Larson, 19:11.59
44. Brandon Kraus, 19:48.96
JV girls
12. JaBryanna Wellington, 18:34.44
16. Molly Bostwick, 18:50.87
17. Shelby Gregory, 18:51.27
JV boys
7. Cory Stephens, 19:05.39
13. Patrick Pinault, 19:30.04
15. Braden Phillips, 19:33.07
17. Colton Horne, 19:39.9
22. Trent Russell, 20:02.25
44. Brian Lamoreux, 21:44.71
51. Myeong Jeong, 22:03.62
69. Derek Wallace, 24:39.09
70. Lex Jones, 24:57.86