Foye, Twombly 'surprised' to win homecoming crowns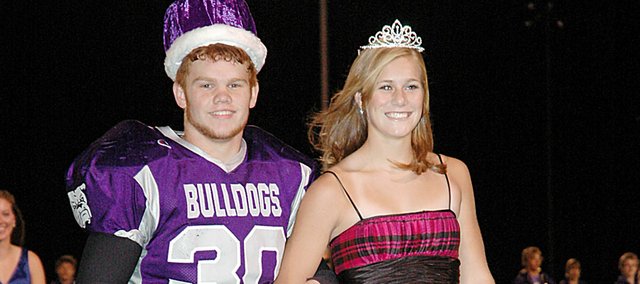 Baldwin High School's annual homecoming week ended with a couple of "surprising" announcements — at least according to the newly-crowned king and queen.
At halftime of the football game Friday night, BHS celebrated its homecoming ceremony. Seniors Connor Twombly and Sam Foye were crowned 2009 homecoming queen and king.
"It was really surprising actually, but it was fun," Twombly said. "I thought it could have gone any way, because we are all nice girls and friends. We all knew that it wasn't that big of deal and any of us could have won."
Foye was just as surprised. He thought his friend and teammate was going to win the king honor.
"Yeah, I was pretty surprised, because Camdon (Schwartz) was nominated," Foye said. "I thought Camdon was going to win, because he is popular and good looking."
Although both winners were surprised, they were both happy to be chosen as the school's homecoming royalty.
"I kind of wanted to win, but I would have rather won the football game," Foye said. "I wasn't too worried about homecoming king. It was pretty cool, though."
Twombly was happy to be the 2009 queen.
"I was happy," Twombly said. "I thought if I would lose to someone, I would rather lose to Julie (Hill) or Lauren (Barnes). Then they called my name."
The other queen candidates were Julie Hill and Lauren Barnes, while the other king nominees were Josh Hanson and Camdon Schwartz.
Gabrielle Huntoon, daughter of Ivan Huntoon and Bonnie Butell-Huntoon, presented Twombly with the tiara. Kaden Brown, son of Shannon and Kelly Brown, presented Foye with his crown.
"Oh my goodness, I was so frozen" Twombly said. "It was really cold."
BHS students celebrated homecoming all last week with spirit days, pep rallies and a parade. The spirit days were sports t-shirt day, mistaken identity day, crazy hair day, fashion disaster day and purple pride day.
"It was a fun week, but I don't usually dress up on the spirit days," Foye said. "This year I did and it was pretty interesting to do all of that stuff. The fashion disaster day was very interesting."
The annual homecoming parade was Friday afternoon. It came downtown for the first time in several years, with a short pep rally at the corner of Eighth and High streets.
Each class decorated a float to fit the theme of "childhood games." The seniors were Candy Land, juniors were Twister, sophomores were Mouse Trap and freshmen were Cooties. The sophomores were voted as the winners of the float decorations.
The seniors' float was damaged in the gusty winds Friday, which disappointed Twombly.
"We worked hard on that float," Twombly said. "We were very disappointed, because we never do very good. Then the wind destroyed it this year. It was really sad.
"But it was a very crazy week," she said. "The spirit days were fun, but I got a little bit behind on my homework. That wasn't good, but it was fun."