City council balks at sales-tax pitch from committee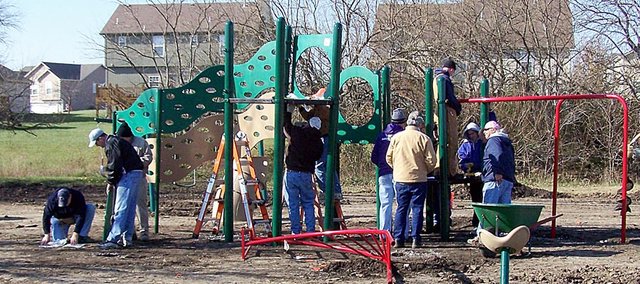 A committee charged with making recommendations on how to spend money from a proposed new quarter-cent sales tax did that Monday. But the Baldwin City Council wasn't buying.
Ginny Honomichl, retired long-time teacher and coach at Baldwin High School, represented the committee, which determined that the top two "quality of life" items needed are trails connecting the city and improvements — such as parking, restrooms and water — at current parks. The council has proposed that the new sales tax be used for "quality of life" items, while the present half-cent sales tax should be renewed and used for infrastructure improvements.
Honomichl told the council the committee considered many items, but weighed opinion heavily on a survey done last year that had 170 responses and identified the needs they suggested. She also said there is grant money available to pay for 80 percent of the trails. She also said that voters needed to know what the money from the sales tax will be used for if approved during the Nov. 3 election where the half-cent and quarter-cent sales tax questions will be on the ballot.
"Why, as a retired person on a fixed income, should I vote for these sales tax questions?" said Honomichl, noting that the school district went out of its way to inform voters regarding the $22.9 million bond issue that narrowly passed last year. "I find it hard to believe there are people out there willing to give you more money when you don't say what it's for."
She was supported by Steve Friend, director of the Baldwin City Recreation Commission, who was on the committee and also conducted the survey.
"These two things are going to have the biggest impact on people," said Friend. "I think this is what we need to sell this sales tax on."
Mayor Ken Wagner thanked Honomichl and the committee for their work and recommendations, but didn't think the council should vote to follow the suggestions.
"I really understand the need for specificity, but when we get too specific, it's a problem," said Wagner, citing the half-cent sales tax that voters approved in 2000 to build the swimming pool, but that will sunshine when the pool is paid off early. "The pool was specific and it was paid off and it's (the tax) over.
"I think the citizens of Baldwin City will have to trust city councils to spend their money wisely," he said, adding that there's interest in library expansion as well as many other "quality of life" items. "I would support some of the money going to those issues (trails and parks). I think the council will have to do a lot of juggling. We haven't even seen the parks master plan. I don't think it's responsible of us to give you a vote tonight on those two items."
Honomichl said the committee was doing what it was charged with.
"We asked," she said. "I am always concerned about informing the public. Vagueness scares me. I don't like vagueness."
Two council members gave their views on the sales tax.
"If we don't have this sales tax, we can't have any of this," said Bonnie Plumberg. "We want to do all of these projects. I don't know which one comes first."
Council Member Ted Brecheisen, Jr., had a different view of "quality of life."
"The sales tax will be used to bring the mill levy down," said Brecheisen. " 'Quality of life' also has to do with being able to afford to live here. I'm not one to commit to rails to trails. We're looking at raising electrical rates. We're starting to talk about taking care of what we have."
Currently, Baldwin City's sales tax rate of 7.3 cents is lower than that of most area towns. Gardner's is at 8.25 cents, Ottawa's is at 7.9, Lawrence's 7.85 and Eudora's 7.3. If the present half-cent tax ends, Baldwin City's rate would dip to 6.8 cents.
Wagner assured the committee that the tax money would be used properly.
"This council will be responsible stewards of this money if it passes and your projects will be considered," said Wagner.
The council also heard a report from Steve Wilson, president of the Baldwin City Golf Association, regarding the use of the Baldwin City Municipal Golf Course. He documented the use of various groups other than golfers, such as high school and college cross country runners.
"I think the general public and maybe the council thinks it's (golf course) under utilized, but there are lots of events there," said Wilson.
He was asking that instead of the usual one-year lease that the council would grant a five-year lease to allow for future planning.
"We're here, it's not tax related, we're not asking for money," said Wilson. "All we're asking for is more time. We'd like a five-year lease."
Friend, the recreation director, said he doesn't see a problem with a longer lease for the 66-acre property.
"We're not opposed to the five-year lease at all," said Friend. "We have lots to do before we can tackle the golf course property."
Wagner referred the request to the community development committee.