Bulldogs suffer homecoming loss to Ottawa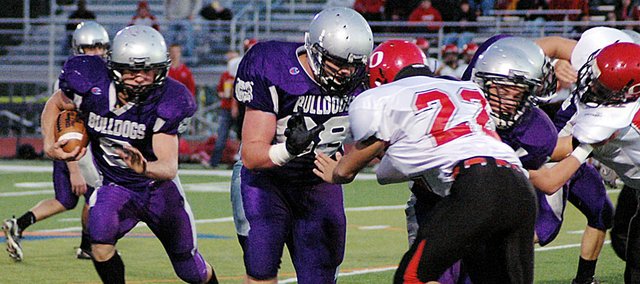 Two losing streaks were on the line Friday night at Baker University's Liston Stadium.
Baldwin High School's football team was riding a five-game winless streak, which dated back to last year. The Bulldogs' opponent, Ottawa, had a much longer streak on file. The Cyclones had lost 33 consecutive games, dating back to the 2005 season.
After 48 minutes of penalties and turnovers, it was the Cyclones who emerged victorious Friday night, ruining the Bulldogs' homecoming. Ottawa (1-4) beat Baldwin (0-5) 18-7.
"It was a really tough loss," senior Sam Foye said. "This was probably the toughest loss, because we should have beat them. They were also 0-33 coming into the game and we have beaten them for the past 10 years. It was just really tough to lose."
For the Bulldogs, it was another case of penalties and turnovers that doomed them. They committed six penalties for 40 yards and fumbled three times. One of those fumbles came deep in Baldwin territory, while the other two were near midfield.
"We turned the ball over a few times, didn't execute and missed a lot of tackles," coach Mike Berg said. "Football is about tackling, blocking and taking care of mistakes. We didn't do any of those after the first drive."
Baldwin did begin the game with a 12-play, 73-yard drive that ended with a 12-yard run by junior Josh Hoffman. Baldwin had a 21-yard touchdown pass nullified during the drive.
Hoffman and junior Ryan Rogers did most of the damage on the ground, rushing for 47 yards. Junior Will Von Bargen threw a 17-yard pass to senior Camdon Schwartz early in the drive. Hoffman's score gave BHS an early 7-0 lead.
"I thought we came out and executed our offense really well to start the game," Berg said. "We took off seven minutes of the clock on that opening drive. I thought this was the team that we are capable of being every week.
"But right now, it's consistency," he said. "We're not consistent. After that first drive, there was no fire. We were excited that we scored, but I told the team we needed to put Ottawa away. We don't know how to put teams away. That comes with experience and confidence."
Baldwin wasn't able to stop Ottawa on its opening drive. The Cyclones answered right back with an 85-yard drive that only took nine plays. Ottawa senior Corbin Goedert threw the first of his three touchdowns to cap off the drive.
Both teams fumbled on consecutive possessions during the second quarter. Baldwin senior Heath Parmley recovered Ottawa's at the opposing 39-yard line. Unfortunately, the Bulldogs' offense moved backwards.
They were called for an illegal procedure, followed by a holding penalty to back them into their own territory. Then they were sacked for a 13-yard loss. Despite the rough possession, Baldwin led at halftime 7-6.
"If we tackle in the first drive, they don't score," Berg said. "We missed tackle after tackle. We put our heads down and we are not wrapping up."
Foye agreed.
"Our big problem was not wrapping up on defense," he said. "We are basically starting an all junior team and a couple of sophomores. We are young."
Early in the second half, Ottawa missed a 24-yard field goal attempt. Three plays later, Baldwin fumbled on its own 32-yard line. Ottawa coughed the ball up six plays later near the end zone.
Baldwin was held to a three-and-out and gave the Cyclones the ball at its own 28-yard line. They took advantage of the field position and scored on a 25-yard pass.
Ottawa's final score came after another BHS fumble. The third touchdown pass for Ottawa came with 6:44 left in the game.
"We're looking around for other guys to make plays," Berg said. "We need guys to step up and make plays. Our playmakers graduated. There are no more Sam Beechers and Brandon Tommers. They're gone and no one has stepped up to fill their shoes yet."
Baldwin will be seeking its first victory of the season Friday at Louisburg. The game begins at 7 p.m.
"We've got a very tough road game," Berg said. "Louisburg's only loss is to Gardner. They are 4-1 and we're their homecoming. It should be motivation for our kids to ruin their homecoming, like Ottawa ruined ours."