Bulldogs fall to 0-5 after homecoming loss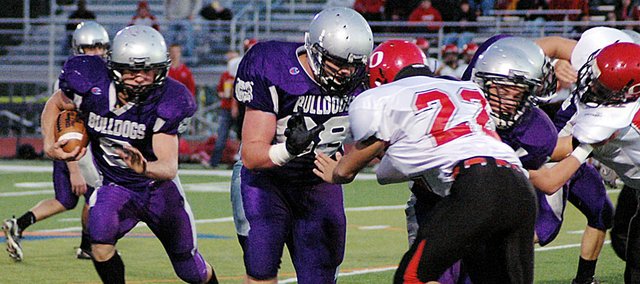 It took 34 straight games for the Ottawa High football team to get a win, but it happened here Friday night.
For Ottawa coach Marc Bergan, it took him 14 games to get the infamous monkey off of his back. In his second year as the Cyclones' coach, Bergan ended the losing skid. His Cyclones (1-4) beat Baldwin (0-5) 18-7.
"This is huge," Bergan said. "It started way before I got here. We went through a tough time last year. The kids never gave up and they battled. We lost a few close ones this year, but we knew we were getting closer. It had been a long time coming. Those seniors have been through an awful lot. They were very emotional and they should have been."
Before Friday, Ottawa had lost its previous 33 games, which dated back to the 2005 season. Bergan took over the helm last fall, but was unable to end the losing streak.
However, Ottawa played a winless Baldwin team that lost its last two games against previously winless teams. Baldwin took the initial drive 73 yards in 12 plays to take an early 7-0 lead. The Cyclones scored 18 unanswered points to ruin the Bulldogs' homecoming.
Ottawa answered right back with an 85-yard drive that only took nine plays. Ottawa senior Corbin Goedert threw the first of his three touchdowns to cap off the drive.
Baldwin also helped the Cyclones by fumbling the ball three times on their own side of the field.
The Cyclones took advantage of great field position to score their second touchdown. They went 28 yards in two plays to take a 12-7 lead. They scored one more with 6:44 remaining in the game.
Ottawa held the ball during the final 5:59 of the game. The Cyclones ran the ball nine times as they marched down field and ran the clock out.
Next Friday, Ottawa will host De Soto for its homecoming. Baldwin will travel to Louisburg.
O — 6 0 6 6 – 18
B — 7 0 0 0 – 7
B — Josh Hoffman 12 run (Hoffman kick made)
O — Levi Daniels 31 reception from Corbin Goedert (Blake Firestone kick short)
O — Dustin Burnett 25 reception from Goedert (Goedert conversion failed)
O — Dustin Burnett 16 reception from Goedert (Goedert conversion failed)