First, second graders soak up field day fun, sun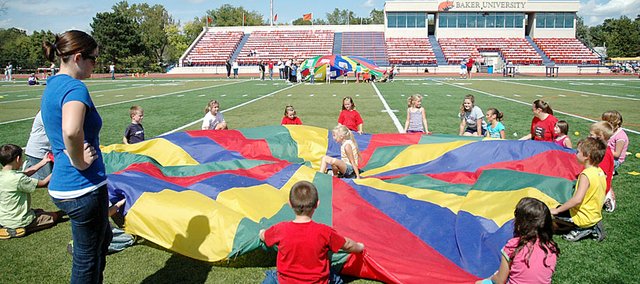 Photo Gallery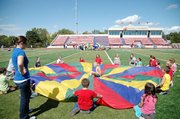 Elementary field day
Baldwin School District elementary students enjoyed the annual field day at Liston Stadium on Friday.
After a month of sitting in the classroom, Baldwin School District first and second graders enjoyed a sunny day at Liston Stadium Friday.
It was their annual day of fun and sun — the elementary field day. Students from Baldwin Elementary School Primary Center, Marion Springs Elementary School and Vinland Elementary School attended the afternoon at Baker University's stadium.
"The kids love it," MSES teacher Michelle Leeker said. "They get excited about it every year. They were counting down the days until field day. That's all they talked about all morning long. They enjoy this day so much."
For nearly three hours, more than 100 students enjoyed nearly a dozen activities. Those included a football toss, clothing relay, foam noodle and water relay and games with giant parachutes.
"The weather has been cooperative almost every year," said Gus Wegner, MSES and VES principal. "It's sunny and not too warm. It's so nice."
Baldwin High School Family, Career and Community Leaders of America students volunteered their time to help with the activities. BHS students have helped run the event during the past several years.
Dozens of parents also came out to Liston Stadium to watch their children. Wegner said the field day benefits so many people each year.
"It's a great time," Wegner said. "There are so many benefits of this day. One, it's beneficial for the elementary kids, because they love being out here. They get out here and they're laughing, smiling, running and falling. They like all of this. They even like to get wet when it's warm like this.
"Second, the teachers get to come out here and see the students in a totally different setting," he said. "Third, the high school students have fun out here. Without them, this wouldn't be possible. So it's a win-win-win for everybody."
Leeker also said the afternoon of fun gives the teachers and students a chance to interact outside of the classroom.
"It's fun, because you get to see the students in a different environment and they get to see you in a different environment," she said. "It's interesting to learn more about each child and what they are interested in. We get to see a different side of them, not just the educational side. I think there is as much learning in the classroom as there is on field trips and when we get out of the classroom."