Durr, Weiss medal at prestigious Rim Rock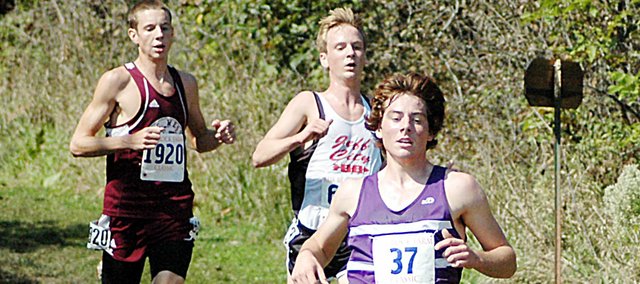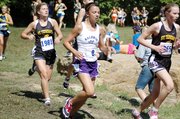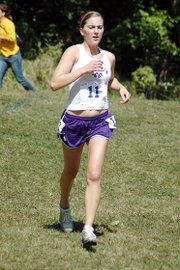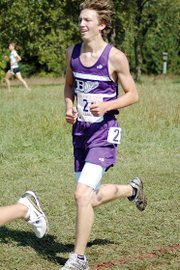 LAWRENCE — Overnight rain showers softened up and muddied the Rim Rock Classic cross country course here Saturday.
That wasn't enough to slow down a pair of Baldwin High School runners. Junior Tony Weiss and freshman Sienna Durr battled the challenging course and earned top-25 medals in the prestigious "gold division."
"This is a challenge for everybody," coach Mike Spielman said. "It's a tough course and it was a tough day, being wet and muddy. It was a challenge to try and survive and run well."
BHS senior Julie Hill agreed with her coach. Although the varsity girls ran the third-to-last race of the day, she said the course was still muddy in several areas.
"It was pretty dry out in the sun, but underneath the trees, it was very muddy," Hill said. "They put some mulch down on some parts of the course to help with the mud. It was hard to get traction and plant your feet on the mud."
Despite the mud, Weiss led the BHS boys as he placed 13th among the 207 runners in the 5-kilometer race that featured the largest and best schools from four states. Weiss finished the course in a time of 16:30.92.
"I would have liked to have done better, since I got fourth last year," Weiss said. "I ran about the same time as last year."
His time was nearly identical to what he ran last year on a course that many felt was slower this year because of the rainfall early Saturday morning. However, his placing dropped nine spots.
"There were some great runners today," Spielman said. "His time was about the same as last year and the course today was a lot tougher than last year. He did a great job of battling."
Meanwhile, in the girls' 4-kilometer race, Durr experienced the legendary Rim Rock course for the first time. While most runners view it as one of the toughest in the state, Durr enjoyed the course north of Lawrence.
"It was really fun," Durr said. "I think it would have been a lot better if it wasn't so muddy, but it went really fast."
Durr felt so comfortable on the course she finished as the ninth-best runner from Kansas in the race. She also earned the final spot for a medal, 25th place, as she finished the course in a time of 16:32.14.
She did something her older sister, Calleigh Durr, wasn't able to do at Rim Rock. The older sister placed 26th a year ago as a senior, so she told her younger sister she had to medal.
"I was really happy with my race," Durr said. "All I wanted to do was medal, so I was really excited when I found out I finished 25th. She (Calleigh) just told me to medal so that was my goal. I tried to medal for her."
Durr's finish led the BHS girls' squad, which was aiming for a trophy Saturday. The Bulldogs ended up placing eighth as a team with 243. They were only 24 points from fifth place.
I know the girls didn't feel like they ran their best race, but they did what they had to do today, which was survive and get through it," Spielman said. "They still got eighth place, which was great. There was only one Kansas team ahead of us. They are amazed at how well they placed for how bad they felt, but they still ran great."
Baldwin's boys' team placed 25th out of 29 teams Saturday. The Bulldogs were without junior Joey LaBuda, fourth runner a week ago, and sophomore Brian Wright, their second runner. Wright began the race, but didn't finish, while LaBuda was ill for the meet.
"With Brian not finishing and Joey being sick, it was definitely going to cut into our team score," Spielman said. "Missing two of our top five guys hurt, but other guys stepped up and ran well."
Baldwin will return home this week for another home meet. The Bulldogs will run at the Community America Invitational Saturday at the Baldwin City Municipal Golf Course. The other schools participating are Lansing, Ottawa, Shawnee Mission North, Shawnee Mission Northwest and Shawnee Mission West.
The meet begins at 8:30 a.m. with four junior high school races. The junior varsity boys will run at 9:30 a.m. with the JV girls to follow 30 minutes later. The varsity boys will start at 10:30 a.m. with the varsity girls beginning at 11 a.m.
"I'm going to enjoy being back at home," Weiss said. "I hope we get a lot of fan support and people yelling for us. It helps a lot."