Another final-minute heartbreak for Bulldogs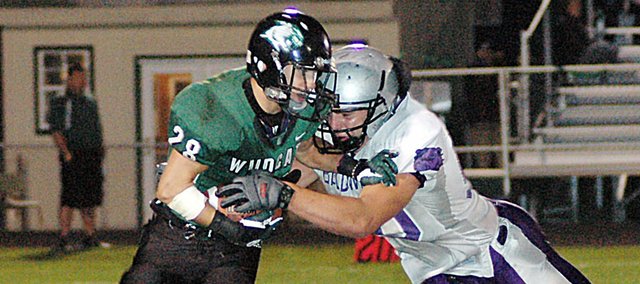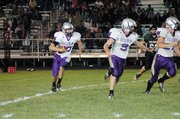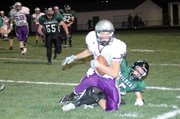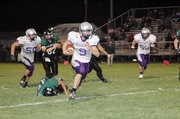 DE SOTO — Two Frontier League football teams competed in a thrilling contest here Friday night and one left with its first victory of the 2009 season.
Unfortunately for Mike Berg, it wasn't his squad. It was the second week in a row where Berg's Baldwin High School football team battled another winless team and drove home the loser of a close game.
The Bulldogs (0-4) lost 14-7 to the Wildcats (1-3).
"Our team is hurting right now because we were so close," said Berg, BHS coach. "We've scored the first touchdowns in the last two games, but have come up short at the end. The kids are playing hard, though."
BHS senior Camdon Schwartz shared the same opinion as his coach after the contest.
"That was really tough, especially since we were up for a brief amount of time," Schwartz said. "We were all pretty crushed and kind of shocked really, but we knew what we did wrong."
Baldwin was the first team to score any points Friday, as they were the first to drive the ball into the red zone. After nearly three quarters of dismal offense, which only resulted in one first down, BHS took possession of the ball on its own 4-yard line with 1:18 left in the third quarter.
The Bulldogs marched 96 yards in 13 plays, despite committing a trio of penalties that cost the team 30 yards. They were penalized 10 times for 90 yards Friday night. That included three personal fouls and two holding penalties.
"I'm disappointed in our personal fouls tonight," Berg said. "We had too many unsportsmanlike penalties and late hits. That's being undisciplined and we've got to work on that as a team."
Baldwin's touchdown drive began with a 9-yard pass from junior Will Von Bargen to Schwartz. The quarterback found junior Braden Souders for a 14-yard pass a few plays later. After a false start penalty created a third-down-and-long, Von Bargen scrambled and threw a pass to Schwartz, who caught it and ran for a 42-yard gain.
Two plays later, Von Bargen ran for 21 yards to make up for the Bulldogs being flagged for a personal foul on the previous play. He later scrambled 4 yards on fourth down to give the Bulldogs a first down.
After a holding penalty moved Baldwin back 10 yards, junior Josh Hoffman broke free for a 39-yard touchdown run. His score gave BHS a 7-0 lead with 7:28 remaining in the game.
"We were very confident after the touchdown, especially since there was so little time left," Schwartz said. "We let up on defense a little and they found a gap."
De Soto took the next possession and drove down the field to answer the Bulldogs. On a third-down-and-11 on their own 32-yard line, the Wildcats snapped the ball over the quarterback's head. The Wildcats' Daniel Peterson scooped up the ball, gathered himself and threw down field to convert a 43-yard pass.
"That play was busted," Berg said. "The ball was laying on the ground, but you don't see any of our defenders there. I haven't put my finger on that yet. I don't know if we gave up because the ball was on the ground. Then the secondary lost sight of the receivers. It looked like things were happening in slow motion."
Six plays later, Peterson threw an 11-yard touchdown pass to Dylan Burford to tie the game with 3:11 left in the final quarter.
Baldwin began its next possession at its own 20 and was unable to move the ball. BHS punted three plays later. De Soto took over on Baldwin's 43-yard line with 1:44 remaining and no timeouts to use.
De Soto converted a fourth-down-and-2 to keep its drive alive. After spiking the ball to stop the clock, Peterson once again found Burford for a score. Burford caught the 20-yard touchdown pass in the back corner of the end zone to win the game.
"We've got to learn to go finish games when we have a lead," Berg said. "We can't let the other team get back in the game."
Baldwin dropped to 0-4 after Friday's loss. Fortunately for BHS, three of their final five opponents of the regular season are also 0-4. That includes the Bulldogs' next opponent, Ottawa, and two of their three district opponents, Perry-Lecompton and Santa Fe Trail.
"Our record is not where we want it to be right now, but we still have five winnable games," Berg said. "We have to convince our kids to keep getting better and learn from our mistakes, because good things will come."
The Bulldogs will host Ottawa at 7 p.m. Friday at Liston Stadium. Friday will be the Bulldogs' homecoming.
"We watched film to show us our mistakes and put Friday's loss out of our mind," Schwartz said. "We watched Ottawa's film and the coaches came up with a good game plan. We will drill it and drill it until we finally get it into our minds. No one likes to lose on their homecoming and getting that first win just adds to the motivation we have."