Extraordinarily grateful
Military brothers home for holiday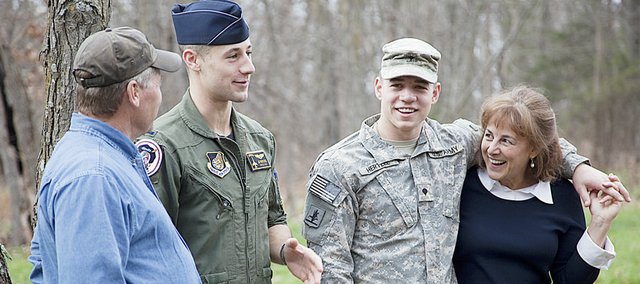 With one son serving in Iraq and another in South Korea, David and Camille Hertzel had expected to spend the holidays alone.
Zach left the country in March, and Jondavid arrived in South Korea in September.
But as it turns out, the Hertzels had something extra special to be thankful for this Thanksgiving Day.
Army specialist Zach Hertzel, 21, a combat medic serving in Baghdad, is home on leave. And his older brother, 1st Lt. Jondavid Hertzel, 26, a fighter pilot stationed in Kunsan Air Base, South Korea, was able to persuade his commander to allow him to spend a few extra days in Kansas after completing a training session in Arizona.
Joining them for Thanksgiving on the family's farm in southern Douglas County was their older sister, Nicole.
"We expected nothing, and all of a sudden we got everything," David said.
Kansas instead of Alps
Thursday's gathering wasn't exactly planned. Zach asked for leave earlier in the year. The intention was to meet up with Jondavid for what Camille called a "high-falutin'" adventure skiing in the Alps.
But Zach's request was pushed back, so he changed plans and decided to come home to Kansas.
Then Jondavid received a surprise. In mid-October, his commander informed him that he was scheduled for training in Arizona in November.
"I was like, 'You got to be kidding me, that is when Zach is going,'" Jondavid said. "And I was like, 'Cool, all right, we will make this work.'"
Camille was even more excited.
"I don't know any mom who wouldn't think the best Thanksgiving is having everybody home," she said.
Don't expect the brothers to sit back and relax over the holiday. They have plans of coyote hunting, attending a KU basketball game and renting a Cessna from Vinland airport for Jondavid to fly.
"I want to see if we can't make this tough Army guy scream a little bit," Jondavid said.
The two are competitive.
"Why would you want to choose the Air Force?" Zach jabs.
"Sleep on the ground in a tent or go supersonic. It's a tough choice really," Jondavid fires back.
Young daredevils
Home schooled until ninth grade, the brothers were always close. It was a time full of climbing trees, swinging Tarzan-style from vines into their farm's pond and trips to the emergency room.
"The ladies at church would say, 'Your son (Jondavid) is up there in a tree. Don't you realize that you need to get him down?' And I would look up there and think, 'If there was a way I could figure out how to get him out of a tree, I would have done it years ago,'" Camille recalls. "And then Zachary always thought he was as old as his brother and if his brother could do it, surely he could. So he was right up there behind him."
From a young age, Jondavid loved planes. Zach wanted to help people and became a combat medic.
"It's a unique opportunity to be the first one there … to get the chance to actually make a difference and save a life," Zach said.
Jondavid says, "I always wanted to fly. And Zach's like, 'You big weenie, I'm going to be on the ground and have a gun.' And I'm like, 'Oh yeah … '"
Despite the teasing, they like having the other one in the military. On bad days they have a brother to call, and on the good days, a brother to brag to their buddies about. And each other's stories bring into focus just how important each of their jobs is.
"You've got to take what you are doing in a whole new light when you realize your little brother is on the ground and what you are doing impacts him," Jondavid said.
In Iraq, Zach thinks of Jondavid when he goes out on missions and sees the fighter planes circling above.
"We actually have direct communication to them, so it is always kind of like, "That is my big brother up there,' " Zach said. "It is kind of a bond that he's got my back and, you know, I got his."
When the Thanksgiving weekend is over, the brothers will go back to work. Zach expects to come home from Iraq in May and Jondavid's deployment is set to end this time next year.
Meanwhile, Camille will be praying for many more Thanksgiving dinners to come.
"They are both in the Lord's hands," she said. "I pray for them everyday, every minute, like any mom who has got kids over there."