Santa Claus, Light Parade coming to town tonight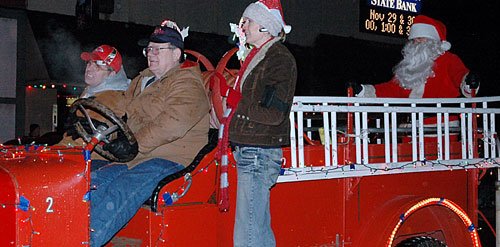 For the 10th year, Baldwin City will be starting its Christmas season with lights, dancers, carolers and Santa Claus.
While the primary festivities won't begin until 5:30 p.m. Saturday, the man from the North Pole will be stopping in town during the morning hours.
The Baldwin City Recreation Commission and Baldwin City Chamber of Commerce will be hosting Breakfast with Santa. It will begin at 9 a.m. Saturday at the Baldwin Elementary School Intermediate Center. Chris Cakes from Louisburg will once again be serving the all-you-can-eat pancakes.
Tickets can be purchased ahead of Saturday at the BCRC office for $6 each. On Saturday, the tickets will be $8 at the door.
"We're hoping for another great turnout," said Tammy Michael, event committee member. "This will be our fifth year. It's a great time with the food and Santa."
After the breakfast, local residents will have time to rest up for the annual festivities downtown. Beginning at 5:30 p.m., the Victorian Carolers will be singing downtown. At 5:45 p.m., dancers from Baldwin Academy of Dance will perform at the corner of Eighth and High streets prior to the parade.
Event coordinators are always wishing for nice weather, but they know Mother Nature isn't always so nice.
"Mike Thompson on Fox 4 said it's supposed to be a record-high weekend," Michael said. "So we're going to hold him to it."
The Holiday Light Parade will begin at 6 p.m. It will start at the corner of Eighth and Chapel streets and head south to High Street. Then it will turn east and all of the floats will be parked between Sixth and Seventh streets along High Street.
This is the 10th year for the annual parade. Like every other year, there will be businesses and community groups represented in the parade. However, there might be a few less floats this year.
"As of right now, we are a bit shorter than last year," Michael said. "But last year, we had five to seven show up that day that weren't even entered. I would say donations are down a little bit, too, but I'd say that's due to the economy."
"We do have several new floats this year," she said. "Some of them are new groups, but others are new businesses in town. We're excited to have new entries this year. We have a lot more new volunteers."
One of the new floats will be representing the Maple Leaf Festival and the MLF scholarship pageant. Miss Maple Leaf, Belinda Post of Topeka, will be riding on the float.
"We're trying to promote Miss Maple Leaf and the Maple Leaf Festival," MLF Committee Chairman Annie France said. "We're excited about the pageant and what it does for young women in Baldwin City."
There will be a new category for parade entries this year. There will be a junior category for younger people who wish to participate in the parade.
The parade grand marshal will be Vivian Courtney. She is a 99-year-old Baldwin City resident who moved here in 1953. For 24 years, she worked in the business office at Baker University. After retiring the first time, she served as the housemother at the Alpha Chi Omega sorority for six years.
"I've never been a grand marshal before and I don't know how I was chosen," Courtney said. "I feel like it's a great honor and I appreciate it. I always go to the Light Parade every year. Through the years, it's gotten better and better."
After the parade, the BCRC will have a raffle drawing for dozens of prizes. More than 100 prizes were given away last year. It's been a big hit every year and Michael expects the same this weekend.
"That's a big thing," she said. "People will stick around in the rain, snow or sleet for anything free. It's great that we can do that, too."
Cider, hot chocolate, coffee and cookies will be placed throughout the downtown area and will be free to the public during the entire evening.
"We're just really hoping for good weather," Michael said. "I think it's going to be a great year. We're really hoping for a great year with great weather for our 10th year. It will be fun."