'

The Pie Lady'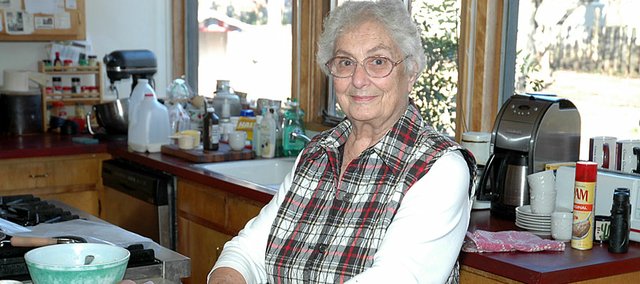 Most of the year, you will find Mary Jane Chubb in a kitchen making and baking pies.
It's been that way for more than 20 years. She does leave the kitchen most days to enjoy her retired life. Unless it's the holiday season, then she might be stuck in her kitchen for days.
"In the in-between time, I'll make pies for people, usually for the holidays," said Chubb, who is known as "The Pie Lady" here. "I do it for special occasions if I'm asked by people I know."
For the 81-year-old Baldwin City resident, business slightly picks up for Thanksgiving and Christmas.
"You could say it's something like that," Chubb said.
This year alone, Chubb has more than 25 pies to make for Thanksgiving. She is even expecting a few more orders to come in from her "regulars."
Added to that total are several pies she will make for her own family holiday dinner.
"We have a family dinner up here, too, so I make them for my family as well," Chubb said. "I make as many as I can, but there comes a limit. You could go and go if you had the time."
Plus, she also makes pies for a local restaurant, Cordoba's. On an average week, Chubb will deliver her pies to Cordoba's three to four times a week.
Chubb has been making pies for Cordoba's since the restaurant opened in the fall of 2006. Prior to Cordoba's opening, the Black Jack Diner operated in the building along U.S. Highway 56 in Baldwin City.
"On an average, she brings around 60 pies a week," said Jessica Cordoba, co-owner of the restaurant. "The majority of the pies we sell are because people know her or have heard of her. She is a huge asset to our business."
All of her life, Chubb has been cooking. As she says, it's something her parents thought everyone should be able to do. So she took up making pies from scratch.
Chubb and her sister, Charlene Potter, first took their pies to the farmer's market in Lawrence. After years of traveling to Lawrence, they decided to try the farmer's market in Baldwin City. Now, it's a home-based business that she still enjoys.
"It keeps me out of trouble," Chubb said. "It gives me something to do while I'm retired. I can do it or not do it, depending on how busy I am at that time. It's one of those things you can pick and choose what you want to do and how much you want to do."
She makes her own crust and filling from fresh or fresh frozen fruit for the simple reason that she prefers the taste.
"I make my own pie crust and fillings," Chubb said. "I don't use canned filling, except for pumpkin. Other than that, I use either fresh or fresh frozen. To me, it tastes better than the canned filling."
Surprisingly, her most popular order for Thanksgiving isn't pumpkin pie. It doesn't involve any fruit. She has six orders for chocolate pies already.
"Right now I have more orders for chocolate and coconut," she said. "It always amazes me how many people want chocolate pies. I guess it just kind of varies on what people like. A berry pie would be a favorite for me. Maybe a blueberry, blackberry or mixed berry. Something like that would be my personal favorite."