Area cities gearing up for parades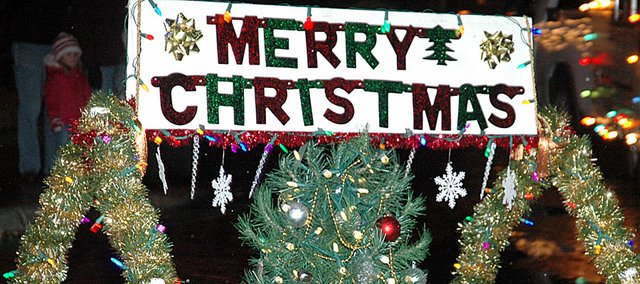 There will barely be time for the turkey and stuffing to get cold this week before area communities turn their attention to holiday parades.
And again this year, Santa Claus will make pre-Christmas visits throughout the area, giving youngsters a chance to prove to the Jolly Old Elf they've, indeed, been nice and not naughty.
Here's a look at scheduled holiday parades in the area:
Leavenworth
At 5:30 p.m. Dec. 5, the Leavenworth Main Street organization will be putting on its Holiday Lighted Parade.
The parade will begin at Seventh and Cherokee streets, go north and turn east on Delaware Street before working its way to Esplanade Street, where there will be a Christmas tree lighting.
This year's theme is "Songs of Christmas."
Also performing at the Leavenworth parade will be the Kansas City Python Drill Team.

Lawrence
Once again downtown Lawrence will be home to the nation's largest horse-drawn carriage parade.
This year, nearly 100 parade entrants will kick off the holiday season for the Lawrence community at 11 a.m. Dec. 5 in downtown Lawrence.
According to the Lawrence Convention and Visitors Bureau's Web site, the parade "features exclusively horse-drawn carriages, wagons and coaches decorated for the season. Santa is the parade's grand finale."
More information can be found at downtownlawrence.com/events.html
Bonner Springs
Bonner Professional Women, Downtown Bonner Inc., the city of Bonner Springs and Vaughn Trent Community Services are teaming up to sponsor this year's Candy Cane Promenade parade and activities Monday.
Activities get under way at 6 p.m. with a parade beginning at First Christian Church, 147 N. Nettleton. The parade continues south on Nettleton to Oak Street, where Mayor Clausie Smith will cut a ribbon and proclaim Oak Street as "Candy Cane Promenade" for the holiday season. The parade will continue on to Centennial Park, where Santa and members of the Mayor's Youth Council will light the Mayor's Christmas Tree. Bonner Springs High School and Bonner Springs Elementary School students will lead the crowd in carols.
Vaughn Trent will be collecting canned goods to fill Christmas baskets for community members in need of assistance.
Baldwin City
Santa Claus once again will be making his way from the North Pole to Baldwin City for its annual Holiday Light Parade and tree lighting ceremony starting at 6 p.m. Saturday.
Hundreds of people are expected to see the different floats and people covered in lights as part of the annual tradition. Susan Baker, office manager for the Baldwin City Chamber of Commerce, said the chamber already has had 15 new entries for this year's parade, which has a competition and top prize of 75 Baldwin Bucks — money that can be used at local retailers.
If you don't want to wait until Dec. 25 to get your present from Santa, the Baldwin City Recreation Commission will be having a free raffle for hundreds of prizes from local businesses.

Ottawa
For the first time, the Ottawa holiday parade will be in conjunction with a Victorian Christmas Festival on Dec. 5 in downtown Ottawa. Performers dressed in period clothing will roam the streets, where there will also be carriage rides, as well as food and craft vendors.
Sherry Lund, with the Ottawa Chamber of Commerce, said organizers are hoping that families will come down for the parade and spend the rest of the day participating in the new festival, which will run from 10 a.m. to 6 p.m. The Christmas parade will start at 11 a.m. at Forest Park, travel south on Main Street and end at Park Street.
The theme for this year's parade is "Song in the Air" to coincide with their grand marshals, Tom and Alice Joy Lewis, who are members of the Ottawa Suzuki Strings.
— Shaun Hittle contributed to this story.