Wildcats end season on six-game winning streak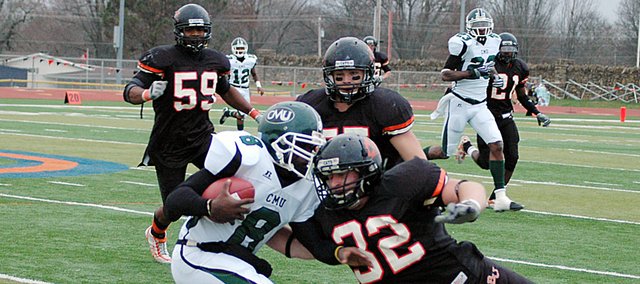 Photo Gallery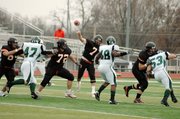 Baker University senior day 2009
Baker University's football team beat Central Methodist 33-7 as 21 seniors were honored prior to the game.
With playoff hopes minimal, Baker University's football team finished it season in dominating fashion at Liston Stadium Saturday afternoon.
Baker cruised to a 33-7 victory over Central Methodist. The win locked Baker (7-3) into fourth place in the Heart of America Athletic Conference, just ahead of the Eagles (6-4).
"It's always good to go out on a win," senior running back Richie Bryant said. "We beat them pretty bad last year, so we expected them to come out here and give us everything they had, especially on our senior day. We came out, handled it fine and got the win."
Bryant was just one of 21 seniors on the Wildcats' squad who was honored prior to the HAAC contest. He was also one of 21 players who were a little emotional after the final game.
"It's kind of how you picture it when you start playing," senior quarterback Mack Brown said. "It's definitely how you want to go out — dominating the other team in all phases of the game. I'm very emotional. This is the end of everything right here. It started with little league baseball and football. It built up for years and now it just stops, so it's very emotional."
Baker headed into its final game ranked No. 24 in the country and tied for fourth in the HAAC. BU needed lots of help and maintained a very outside shot at reaching the NAIA playoffs.
After routing Central Methodist, Baker moved up only one spot to No. 23 in the NAIA poll and didn't qualify for the playoffs. The Wildcats did win their final six games of the season and seven of the final eight contests.
"When you go 7-1 on the back stretch of the HAAC, that's a great finish to the season," coach Mike Grossner said. "It's a great effort by the kids and it shows their character. They came back after those first two losses. I think today was the exclamation point, because we had to win today. No matter what we did up to this point, we had to win today to make it a great season and the kids did that today."
The Wildcat players knew opening the season with two losses against teams ranked in the top 25 would hurt their chances of postseason action. Now MidAmerica Nazarene and Missouri Valley are ranked No. 8 and No. 11. Baker's other loss was to Lindenwood, which is ranked No. 3 in the country.
"We had some struggles early, but we finished strong," junior linebacker Matt Brock said. "It's nice to go out the way we did today. It's a great end to the season."
Brown agreed, saying he was thrilled to finish his final season on a six-game winning streak.
"Our schedule didn't line up for us well at the beginning of the year, but we made the most of it after starting 0-2," he said. "We came back strong and gave ourselves the best chance to get into the playoffs."
Baker came out strong Saturday and tried to end the season on a positive note. BU controlled the game early as it moved the ball offensively and shut down the Eagles' offense.
The Wildcats got on the scoreboard first with a 35-yard field goal by senior Derek Doerfler. A few minutes later, Brown connected with junior Austin DeGraeve on a 32-yard touchdown pass. DeGraeve dove over a defender into the end zone.
Less than a minute later, the Wildcats capitalized on a fumble recovery. Bryant broke a run loose for 50 yards and finished it with his only touchdown of the afternoon.
"That felt nice," Bryant said. "I saw there was one guy to beat and our wide receiver or tight end picked him up. Then I just made sure I didn't get caught."
At halftime, Baker led 19-0 and looked in control of the contest. However, the Eagles struck back with a 78-yard touchdown pass late in the third quarter to close the lead to 19-7.
Despite that play, Baker still held the Eagles to 170 yards of offense Saturday.
"We were all over them today," Brock said. "Other than that one big play, we would have held them under 100 yards of offense. Coach always preaches running to the ball and giving effort on every play."
Baker fired back with a touchdown of its own. Brown found senior Brad Fawcett for a 14-yard touchdown pass. It was the first of two times the pair would hook up for a score.
Later in the game, Fawcett was alone in the end zone when Brown threw a pass almost over his head. Fawcett leaped and brought it down for a 20-yard touchdown reception.
"Brad had a huge day," Grossner said. "He caught everything and he was our go-to guy. You expect that out of Brad, being a senior in his last game. I was proud of him. That last touchdown pass was incredible. I'm glad he had a big day on senior day."
Brown finished the game with 25 of 38 completions and 207 yards. He also threw for a trio of touchdowns in his final outing as a Wildcat.
"I thought Mack Brown was super efficient," Grossner said. "That's the type of team that can make you look really bad, because they blitz from all angles. Mack really played smart and delivered the football well to our guys."
His counterpart in the backfield also had a huge finale. Bryant carried the ball 35 times for 144 yards, averaging 4.1 yards per carry. He also played the game with a nagging injury from the week before.
"Richie was hurt badly going into this game and our backup John Babb was hurt, too," Grossner said. "I was a little leery about what we were going to do if they both went down. I thought Richie gave his best effort of the season with 35 carries, which is the most he's had here."
Bryant said he had to play through pain in his final game.
"I was kind of nervous about getting hit, but the adrenaline kept me in it," Bryant said. "It hurt kind of bad a couple of times, but I had to play through it.
"I came here for track, so I basically walked on for the football team," he said. "I didn't even expect to play this year, but I'm glad I stayed another year. It was a good bonding experience and a fun year."