School board eyes roof repairs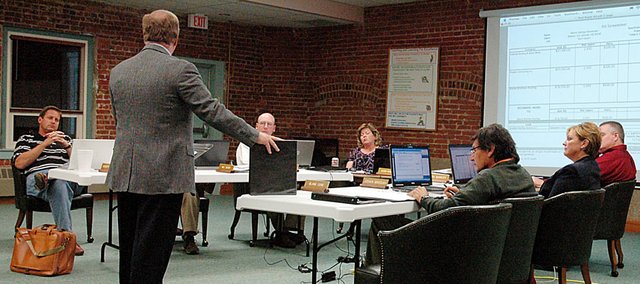 Supt. Paul Dorathy and the Baldwin School Board approved the first year of a three-year plan to repair roofs of district buildings at last week's meeting.
However, the big news about district roofs was about the Baldwin Elementary School Intermediate Center. The school opened in 2003 but the roof already has problems.
"There had not been a warranty issued to begin with on that roof," Dorathy said. "How that didn't happen, I can't answer."
Steve Roberts from Complete Roofing Source, Blue Springs, Mo., came Monday night to talk to the board about his roof audit. He said the BESIC roof had no warranty, but he is trying to resolve the issue with the company.
"The roof isn't leaking and that's a good thing," Roberts said. "In my opinion, it doesn't look the part from a visual standpoint. I'm now putting the pressure on the company, so keep your fingers crossed."
Dorathy was hopeful the issue will be taken care of and won't require any district dollars to fix.
"There are some issues with materials and installation on that roof," he said. "At this point, we are working with the company to come back and make some of the repairs. The company said they will come back and make those repairs. At that point, they would warranty any work after that. So we're hopeful that issue will be taken care of by that company."
Other than the BESIC roof, many of the problems on the district roofs can be fixed by the maintenance staff. Dorathy did say larger problems will be fixed by contractors. The district has set aside $30,000 in capital outlay a year for this year and the following two years to pay for these improvements.
On Monday, the school board approved a bid from Boone Brothers Roofing for $22,700 to resurface and replace gutters to the Marion Springs Elementary School roof.
"To me, it's critical that we keep our roofs in good shape," Dorathy said. "Anytime you have a leaky roof, and we have some in this district, you have potential for mold and other airborne health problems. It also causes more damage to the building. Nothing can make your building deteriorate faster than once you allow moisture within your building. So we've got to keep our roofs well maintained and we need a schedule to do that."