'

Lil Abner' set for this weekend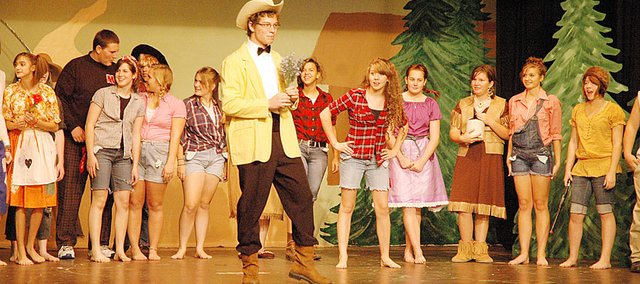 The cast of this year's fall musical, "Lil' Abner," have been rehearsing three times a week to prepare for opening night on Friday at 7 p.m. and another performance on Saturday.
The fall musical is directed by Baldwin High School English teacher Katherine Cook and music teacher Beth Nelson.
"It's a really funny show," Nelson said. "There are lots of times during rehearsals that we are all cracking up at the actors or the activity that's happening on stage."
With opening night around the bend, the cast is in full swing for final preparations.
"I think it's going to be a lot of work but the show will pull together in the end because we have a lot of talented cast members this year," senior Amelia Wilson said.
"We hope that come opening night the show will be able to run smoothly and our audiences will be entertained," junior Alex Daffern said.
The musical includes high-energy songs accompanied by piano and percussion.
"The musical has solos, duets, and chorus numbers, lots of fun, upbeat songs that stick in your head," Nelson said. "We have some great singers."
"The music this year is really interesting," Wilson said.
Along with the music comes choreography.
"We have some great choreography and the people who are dancing have worked really hard on it," Cook said.
"I enjoy the dancing parts," junior Nicolle Sanchez said. "That's the most fun."
The chorus also helps brings energy to the musical.
"One of my favorite things is to watch the energy the chorus brings, those actors have so little to work with but bring so much to the production," Cook said.
"There's a lot of chorus songs," junior Kara Protasio said. "I like the song 'Jubilation T. Cornpone.'"
"My favorite part of the musical is getting to know new people," Wilson said.
"I think the best part of the musical is the rehearsals because you don't always get the chance to come together with people you may not know," senior Retta Larch said.