Officers bust cockfighting operation east of Vinland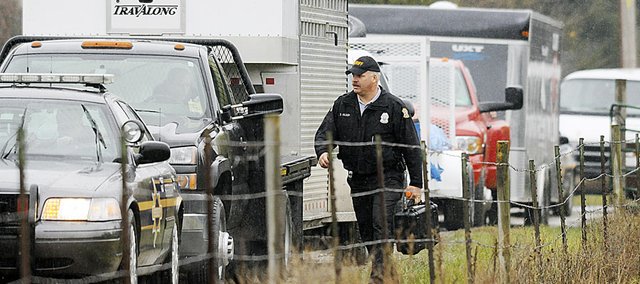 Two people were arrested Tuesday after a cockfighting operation was raided at a rural Douglas County home east of Vinland, authorities said.
About 60 officers and animal officials removed 169 birds from the property, 2174 N. 700 Road, including 118 gamecocks, 48 hens and three chicks, said Ken McGovern, Douglas County sheriff.
"It is a pretty big operation," McGovern said. "You have all the birds out and then you have all the buildings that have to be looked at."
He said the operation was spread out over 2 acres of land.
The raid was conducted Tuesday morning after about two years of planning, according to the sheriff. Officials said items believed to be used in the illegal operation also were seized.
Ezequiel Olivas, 44, was charged Tuesday with three counts of conducting cockfighting and one charge of possession of cockfighting paraphernalia, which includes "spurs, gaffs, swords, leather training spur covers or anything worn by a gamecock during a fight," prosecutors said.
Charges were expected to be filed Wednesday against a second suspect, a 40-year-old man living at the house, said Charles Branson, district attorney. The Signal does not typically identify suspects unless they've been charged.
McGovern said it appeared the birds were being bred at the home and officers were working to determine if fighting also occurred on the premises. The law makes it illegal to breed roosters for fighting, Branson said.
Olivas is the first person charged with felony cockfighting in Kansas. The crime, which is illegal in all states, became a felony in Kansas in July.
"This is a blood sport," said John Goodwin, manager of animal fighting issues for the Humane Society of the United States, who participated in the investigation. "It's an activity where they actually put knives on the heels of these birds, inject them with adrenaline-boosting drugs and have them fight to the death, for nothing more than gambling purposes."
Branson said the charge carries a probation or prison sentence, depending on the suspect's criminal history.
The Kansas Highway Patrol, Johnson County Sheriff's Office, Lawrence Police Department, Lenexa Police Department, Overland Park Police Department, Kansas Department of Wildlife and Parks, Kansas Animal Health Department, the Lawrence Humane Society and the U.S. humane society assisted the Douglas County Sheriff's Office in the investigation and in Tuesday's operation.