Snow arrives in big way
Giant flakes put on winter show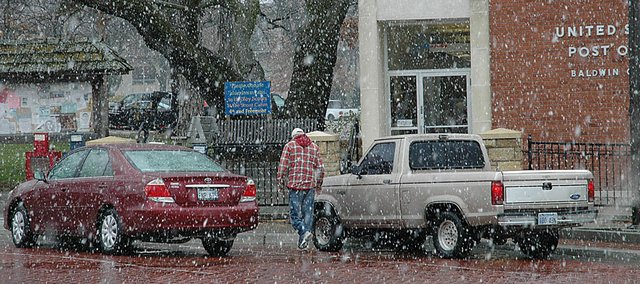 Mother Nature delivered her first punch of the season Monday, as a winter storm hit northeast Kansas.
While Baldwin City and Lawrence saw intermittent snowfall that hardly stuck to the ground, areas north and west of the city saw up to a foot of snow. Hundreds of customers near Wamego were without power Monday night, as heavy snow knocked down poles and power lines.
"We were seeing very intense bands of rain and snow that were coming through," said Matt Elwell, 6News meteorologist.
The National Weather Service issued a winter weather advisory through 6 a.m. this morning for Douglas County and areas to the west, prompting Lawrence city officials to activate the snow operations plan. Trucks were also ready in Baldwin City.
Lawrence street maintenance crews were scheduled to work in shifts overnight and into this morning, in case snow began accumulating, bridges got slick or travel conditions became otherwise treacherous. Crews spent the day Monday preparing salt and sand trucks to treat roads, in case temperatures dropped low enough for the moisture to become a problem.
The snow is expected to end today, producing a total of between 1 and 2 inches of snow by early morning, Elwell said.
"The wintry precipitation will subside, but it will still be a very cold rain," said Elwell, who cautioned that bridges and overpasses might be particularly slick this morning. "Leave extra time for your morning commute."
Lawrence police said at least 21 accidents were reported Monday, though a spokeswoman couldn't say how many of them were weather-related. No accidents were reported in Baldwin City.