Baker dominates senior day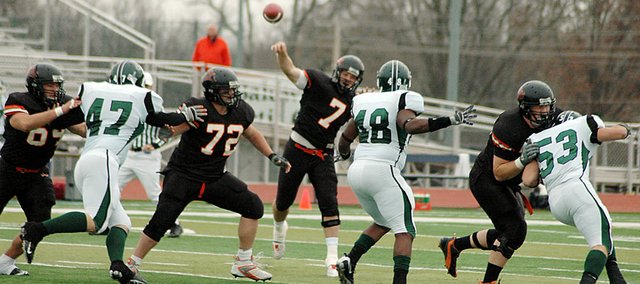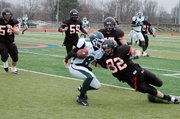 The Baker University football seniors went out in style Saturday afternoon at Liston Stadium. The day ended with a Gatorade bath for head coach Mike Grossner, as the Wildcats (7-3) went on to roll Central Methoidst (6-4) 33-7.
"I love the way our kids played today on both sides of the ball and special teams," Grossner said. "We dominated a good football team and it was evident at halftime. Our kids made a lot of plays today and played hard all game."
Senior Richie Bryant rushed for 144 yards on 35 attempts, one of which came when he broke free for a 50-yard score to give Baker a 16-0 lead early in the second-quarter. Senior Mack Brown passed for 207 yards with three touchdowns.
Defensively, the Wildcats were stellar. The Wildcat defense held Central Methodist to just five-yards rushing on the day while forcing three turnovers. Two of those were fumbles in the fourth quarter, which helped the Wildcats secure the victory.
Matt Brock recorded 10 tackles, Calvin Pearce recorded six with two forced-fumbles.
Richie Bryant will finish the season as the Heart of America Athletic Conference leading rusher at 126 yards per game, and currently ranks No. 4 in the NAIA. Bryant recorded over 100 yards in nine-consecutive games this season, tying a school record set by Kevin Alewine in 1985. Bryant will finish his career with 3,144 yards, third all time, behind Ed Lierz (4,492) and Alewine (3,704).
Mack Brown finishes his career as the school's all-time passing leader with 8,278 yards. Brown now has 57 career passing touchdowns to rank first all-time at Baker.
Derek Doerfler will finish his career as the all time field goal leader with (48), longest field goal made (62), and most field goals made in a season (23).
Baker finished the season 7-3. The Wildcats have now recorded three-consecutive winning seasons for the first time since 1992-1994.