Wildcats secure third straight winning season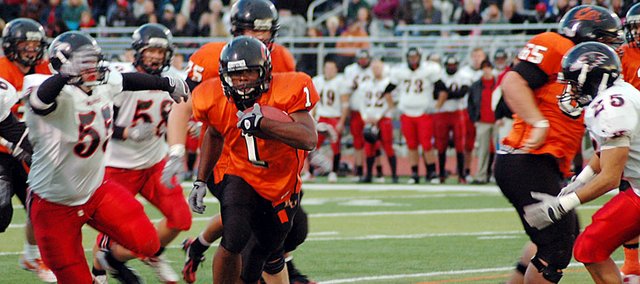 Baker University's football team is on a roll and hoping to finish the season on a positive note Saturday.
The Wildcats held off Evangel 24-17 in a Heart of America Athletic Conference contest on Saturday in Springfield, Mo. It was their fifth consecutive victory and their sixth in the last seven games of the season.
Saturday's victory also guaranteed a third consecutive winning season for the Wildcats. Their last stretch of three winning seasons came in 1992-94.
"The kids have been resilient," coach Mike Grossner said. "We had a tough start on the year and a lot of guys might have felt sorry for themselves and hung it up. But these guys have taken it week by week and tried to get themselves back in the national picture."
Baker began the season ranked 12th in the country. Then BU lost its opening two games. After winning the next two, Baker lost to Lindenwood to fall to 2-3. The three teams Baker lost to are all ranked in the top 15 in the country.
Since that last loss, the Wildcats have won five straight conference games. They are now ranked No. 24 in the NAIA.
"Yeah, we have gone under the radar a bit, but that's because of the thunder at the beginning," Grossner said. "Those first two games meant a lot in the big picture.
"I think there is a slight disappointment, which is good," he said about being 6-3 right now. "The expectation level has risen among the staff, players and community. If you look at the base of work of this year's team, we are only one game behind last year's great year if we win this weekend."
Last Saturday, senior running back Richie Bryant finished with 114 rushing yards — his eighth consecutive 100-yard game — and a touchdown to lead Baker.
"He was hurt, too," Grossner said of Bryant. "He only played parts of the first quarter, none of the second quarter and a dose in the third and fourth quarters. At halftime, we were warming up our back-up freshman middle linebacker, because we moved him from running back to linebacker early in the season. So our panic button was turned on, yet we still rushed for 225 with a piecemeal group in there."
After Bryant's touchdown run, senior Derek Doerfler kicked a 32-yard field goal with four minutes left in the first quarter to give the Wildcats a 10-0 advantage. Evangel (2-7) pulled within 10-7 on a 66-yard punt return in the second quarter. The Wildcats extended their lead to 17-7 when Mack Brown connected with Reggie Harris on a touchdown pass before halftime.
Baker's final score came on Brown's TD pass to Verlain Betofe late in the third quarter. Brown finished with 161 passing yards to surpass 8,000 yards in his career. He ranks No. 1 on the school charts with 8,071 yards.
"He was efficient," Grossner said of Brown. "Mack has played well for us all year and I expect him to have a big one for us Saturday."
Offensively, Baker did turn the ball over three times in the redzone. Two of those were interceptions inside the 5-yard line. The other was a turnover on downs after a Wildcat receiver dropped a pass.
On defense, the Wildcats held Evangel much of the game. After a gamble didn't work, Evangel took advantage of a short field to score.
"We gave them a short field after we didn't execute an onside kick and they punched it in three plays later," Grossner said. "Other than that, the defense played stellar."
The Wildcats wrap up the season on Saturday against Central Methodist. Kickoff is 1 p.m. at Liston Stadium. Pre-game festivities will include honoring the seniors on the squad.
"We've got a big group," Grossner said. "We've got 21, which is the biggest class we've had since I've been here. They are going for their 25th conference victory. If they win, they will be 25-15, which is pretty good in the HAAC."