Leaf burning questions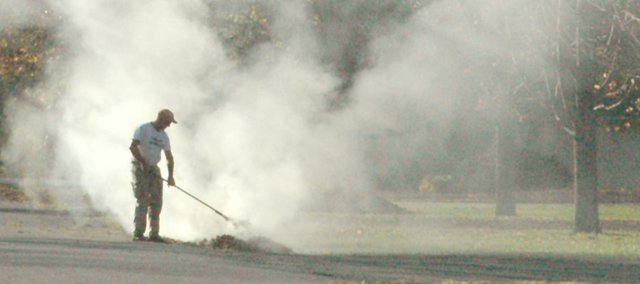 It's that time again in Baldwin City. Those leaves we celebrate with the Maple Leaf Festival now have to be dealt with. They're on the ground, not in the trees. City Administrator Jeff Dingman answers questions regarding the city's regulations on burning leaves and other items.
Q. Why do I need a permit to burn leaves and how many are issued at one time?
A. The permits for burning leaves and yard waste are required by city ordinance. There is a limit to 25 issued in the city for any one particular day. They are issued on a first come, first served basis.
Q. What all is legal to burn, or is it just leaves that's allowed?
A. Any leaves, yard waste or limbs that are smaller then 4 inches in diameter can be burned with a permit. Limbs or logs that are larger than 4 inches in diameter can be burned in fire pits and such without a permit, as they do not produce the same type of smoke that leaves and yard waste do.
Q. How long are the permits good for, in case of rain, and how many can be obtained?
A. A permit is good for three days. Residents can get 10 in a calendar year.
Q. How many permits have been issued so far this year?
A. There have been 85 permits issued since August 1, 42 of them in November and 213 for the year, to date.
Q. What do I need to do to get a permit?
A. Applications are available at City Hall, or also on the city Web site, but must be faxed in or delivered to City Hall for approval. More information is available at the Web site at www.baldwincity.org.