BJHS

wrestlers prepared for league finale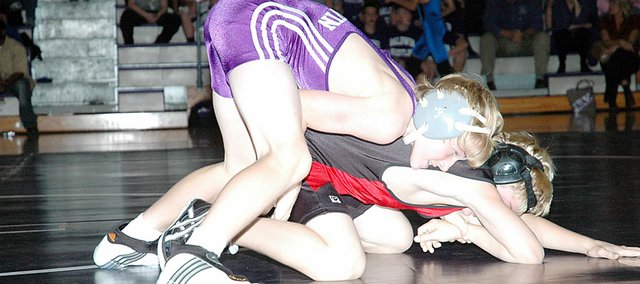 Two weeks ago today, the Baldwin Junior High School wrestling team competed in its first meet. In two days, the season will be over.
Every fall, the junior high wrestling season is incredibly short, as it only lasts for three full weeks. On Saturday, the BJHS squad will travel to Pioneer Ridge Middle School in Gardner for the Frontier League tournament.
"I think we'll do pretty well," coach Kit Harris said. "I think everybody has a chance to place. We've got a few who have a shot at placing high or maybe winning a league title."
Heading into the league tournament, Tucker Clark leads the eighth graders with a 12-1 record. Ethan Hartzell and Ben Growcock are each 10-3 on the season. Other top records belong to Derick Jaroscak (9-4), Nathan Clem (8-5) and Riley Thomas (7-4).
On the seventh grade team, Jon Pratt leads all wrestlers with a perfect 11-0 record. Mario Garcia is 12-2 with 11 falls, which is a new school record for a seventh grader. Clayton Saving is 8-3, while Isaiah Delatorre is 8-5 on the season.
"It's been an awesome season so far," Harris said. "We have a lot of brand new wrestlers and they are catching on pretty quickly. Every single wrestler has had at least one win and a lot of new wrestlers are getting a lot of wins. Everybody is working hard and having fun."
On Monday, the Bulldogs hosted a quad against Anderson County, Pioneer Ridge and Wheatridge. The Bulldogs won 32 matches and lost 12 at the meet.
"We had a really tough meet at Emporia Saturday and I think that really opened our eyes," Harris said. "We started getting a lot more aggressive Monday, hitting our moves hard and wrestling smart yesterday. The tournament was a good learning experience for us."
Saturday's action begins at 9 a.m. in Gardner.