New generations putting stamp on military service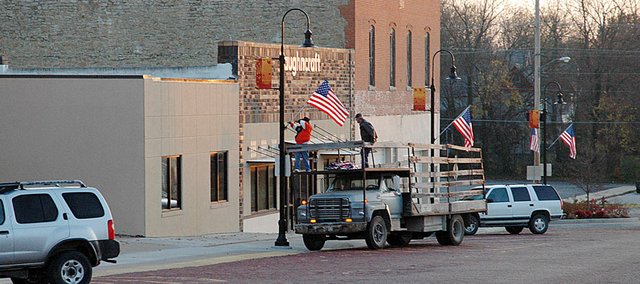 On this day, when America pauses to honor its veterans, the very nature of the word is undergoing a shift to include a new generation of soldiers.
Veterans groups, made up mostly of older men who served in wars in Vietnam and Korea, are struggling to connect with and assist the newer group of war veterans — people born as recently as the early 1990s.
Both young and old say, however, that they remain united under shared experiences and service to their country and everything else that goes into the word "veteran."
Tommy Hutchinson, at age 27, is part of that new generation. "Veteran" can mean different things to people he knows who have served in the military.
"I'm not sure if it really registers, to tell you the truth, with a lot of them," Hutchinson said during a recent conversation as he tended horses on a farm near Free State High School.
Hutchinson, who served in the Navy Reserves, said that while today's veterans may not have the experience of actively engaging the enemy as the older crowd did, they might be more involved — as he was — in building a school in Iraq or Afghanistan.
James Bradley, service officer at American Legion Dorsey-Liberty Post 14 in Lawrence, served 20 years on active duty and 10 in the reserves.
He said he welcomed the younger crowd into the new "extended family" of veterans, and said they deserve the title.
"A veteran is anybody who has served this country honorably," he said.
Felix Zacharias, president of the Kansas University Veterans Association, said he's picked up on the way the face of veterans has changed in recent years.
"I don't think it's a bad thing," he said, noting the shift to include a younger cohort.
He's also noticed a change in the way veterans have been perceived since Sept. 11.
"It's mostly a sign of simply overlooking the matter," Zacharias said.
A veteran who served four years during the Cold War training for war might get a question asking, "Oh, did you do anything interesting?"
One who served from 2004-08 might be faced with someone who assumes something very different, Zacharias said, when, in fact, they may have done similar things.
Zacharias said members of his group often believed — wrongly, he said — that veterans organizations were only for older people.
Jerry Karr, commander of the Veterans of Foreign Wars Post 852 in Lawrence, is a Vietnam veteran from the U.S. Army. He said his group has made overtures to the younger crowd to get them more involved.
When he returned from Vietnam, he said, many Vietnam veterans were rejected by the VFW because they weren't involved in "the big one." That's changed.
Still, he said, many younger veterans are uncomfortable with the idea.
"They're not reaching out to us, they're reaching out to each other, which is understandable," he said.
He said, however, that the few who have joined — and numbers are increasing — have found a common bond.
"When you're talking with other vets, they look at you and they say, 'I understand. I've been there,'" Karr said.