400-plus show up for Baldwin City
H1N1

flu shot clinic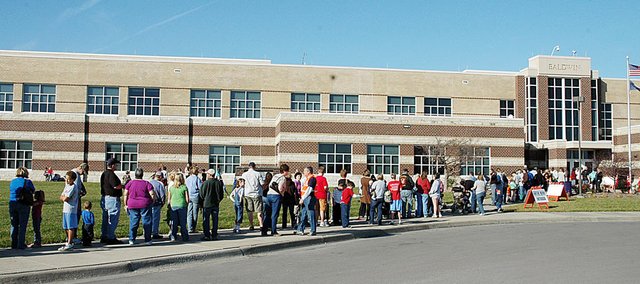 Saturday's H1N1 flu vaccination clinic at Baldwin High School went smoothly and there was plenty of vaccine to go around.
"We were not all that busy and had plenty of vaccine," said Carrie Enick, Baldwin School District nurse. "I think the only time there was a line was before we started at 10 a.m., with maybe 50 to 75 people outside the door. Other than that line, I don't think people had to wait at all.
"We had about 20 vaccine stations, so people were moved through very quickly," Enick said. "They said over 400 vaccines were given. I think we were prepared for 1,000."
She said there were around 60 volunteers who worked different shifts during the day. One of those volunteers was Diane Wagner, who was impressed with the whole process orchestrated by the Lawrence-Douglas County Health Department.
"A giant hats off to the folks at the health department," said Wagner. "They were great and so very organized. It really was seamless. One of the workers told me that they practice for these kind of mass inoculations, so they did have procedures down. Also since this was the seventh one they had done, they had worked most of the bugs out.
"Frankly, I think it was a great practice run in case there truly is an emergency where folks need to be inoculated en masse very quickly," she said. "So, it's nice to know there is a department and group of volunteers here in Baldwin City that have been through this before and could step in and run it in case of a true emergency."
This is the only H1N1 clinic scheduled for Baldwin City, said Enick.
"People should check the health department Web site for dates of other clinics," she said. "I know there are some scheduled in the Lawrence schools soon."
The health department Web site is www.ldchealth.org.